December 2015
Student Spotlight:
Dieter Cantu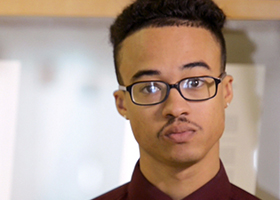 Dieter Cantu
---
Dieter Cantu started Position of Power to help disadvantaged young men
Meet Dieter Cantu. Through his non-profit organization, Position of Power, he's leading an effort to raise awareness about domestic violence and other social issues.
Born to an African-American mother and a father of German and Hispanic heritage, Cantu saw a lot of struggle and misfortune as a youth. He watched his mother suffer abuse from his father. Then, she battled spinal meningitis.
After years of facing various trials and tribulations, Cantu longed for a change. He wanted to help others who had witnessed hardships and lack of opportunity. He enrolled at UTSA as a transfer student to pursue a degree in Public Administration.
In 2009, Cantu founded Position of Power, a 501(c)(3) organization focused on helping disadvantaged African-American and Hispanic young men become successful citizens of society. It aims to help teach individuals how to live their lives with high moral and ethical standards.
"When I started Position of Power, I wanted to create an opportunity for people to succeed. I saw a lot of misused energy and talent in the neighborhood," said Cantu. "I didn't grow up with any mentors, or anyone to really help me learn life skills. I had to learn on my own through trial and error. I wanted to help people discover what they can offer to the world."
Jarveon Williams, a junior running back for the UTSA Roadrunners football team, is a member of Position of Power. He says that being a part of the organization has inspired him to unlock his full potential.
"Being a part of the P.O.P. organization has opened my mind, heart and spirit to becoming a better person," said Williams. "Dieter challenges your mind and helps you see things in a different perspective. He's a very inspirational person who makes you want to do better for yourself."
Since 2009, Cantu's organization has actively hosted and participated in community service projects such as a Christmas toy and coat drive, Thanksgiving turkey giveaway, breast cancer awareness basketball tournament, neighborhood clean-up events and more. The organization also has helped develop anti-gang strategies and interventions for at-risk youth facing challenges with the law.
In 2013, Position of Power began addressing domestic violence. Cantu started the Respect Women Campaign to create and spread a positive concept and worthy representation of women in society. He wanted to speak out against domestic violence and other social issues such as sexual abuse and forms of female degradation.
"Everyone wants to say it, but no one wants to say it," said Cantu. "I witnessed so much degradation of females as a young child. You kind of get desensitized to it. I wanted to do something about it."
The campaign started with positive messaging on t-shirts. It also has appeared in local media outlets.
San Antonio Mayor Ivy Taylor recognized Cantu's hard work with a congratulatory certificate for talking to juveniles at detention centers about domestic violence. Cantu says Mayor Taylor has been a significant influence in his life.
"Mayor Ivy Taylor, when she was my [UTSA] instructor at the time, helped open the doors for me and helped me build relationships in the San Antonio community," said Cantu. He says that the UTSA Public Administration program has helped him grow tremendously.
"The professors and staff care about your well-being and inform you about scholarship opportunities and other information to help you with your academic goals," he said. He continues to motivate and inspire young people in San Antonio and surrounding regions.
His most powerful message for others is one he gave himself a long time ago: "I was never afraid to be myself," he said. "Anything is plenty. Change starts with one person at a time."
– Michelle Skidmore
Are you graduating in December 2015? Share your photos with us on Facebook or Twitter (@UTSA). #utsagrad2015

Do you know a fascinating UTSA student who is planning to graduate in May 2016? Share that story with us at news@utsa.edu.