Roadrunners Give Back, the annual UTSA Homecoming service project, benefited the San Antonio Food Bank (SAFB). On Friday and Saturday, November 6-7, 95 UTSA student and staff volunteers focused on the environment and food insecurity by helping the SAFB with outdoor projects.
The San Antonio Food Bank provides food and grocery products to 16 counties throughout Southwest Texas and has quickly grown to serve 58,000 individuals each week. SAFB fights hunger and feeds hope in Southwest Texas through food distribution, programs, education and advocacy.
On Friday, November 6, 2020, Roadrunners volunteered to do a trash pick-up detail and clean up vegetable beds at the San Antonio Urban Garden. 35 volunteers collected 15 bags of trash and cleaned up about 15 acres of land at the SAFB Urban Garden.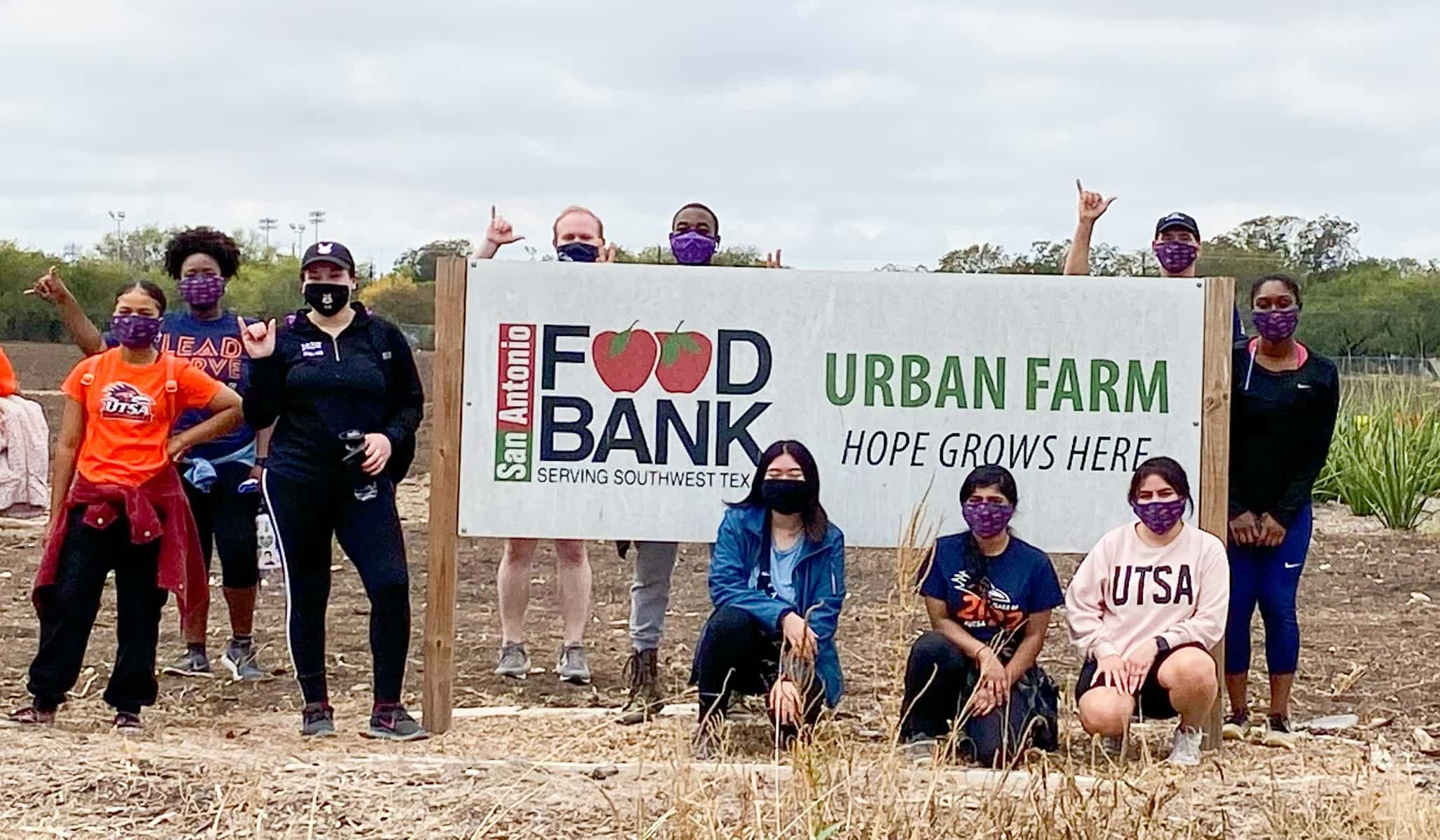 On Saturday, November 7, 2020, a team of UTSA students, including many UTSA athletic teams, volunteered at one of the SAFB partner locations, Mission San Juan. This group of students-athletes planted 115 fruit trees in the orchard.
Members of the Volunteer Organization Involving Community Education and Service (V.O.I.C.E.S.), Pre-Medical Society, Athletic Teams, Student Government Association, Honors College Students and fraternity and sorority life members were among the volunteers.
---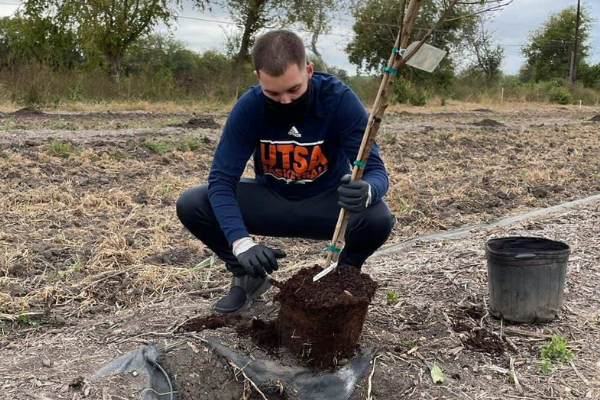 "Roadrunner's Give Back was a nice change of scenery because it gave hope in a time when we are uncertain of almost everything. The one thing I was certain about this experience was the amount of safety they put into making the volunteers during a pandemic. Even in the pandemic, Roadrunners are actively contributing to the change that this world needs. Working together for a better world helped me focus on hope." – Ethan Guerrero, V.O.I.C.E.S. Special Events

"It was a really successful day. We have volunteered with the SA Food Bank before, but this was a different opportunity to be outside and it was a great way to start off a Saturday. We love to say yes to these opportunities. It felt good to be outside, during COVID-19 while staying safe...a definite win-win." – Coach Henson, Head Coach of Men's Basketball Team
"I think this was an amazing opportunity for us to give back to the community. Knowing that it will go back to the community is cool.  We (women's volleyball team) look forward to participating in other community service opportunities."- Mia Perales, Women's Volleyball Co-Captain