UTSA's Recycling Program Scores Gold from ReWorksSA
May 10, 2019
UTSA's commitment to building a healthier, more sustainable campus community has earned it a gold score from the City of San Antonio's ReWorksSA certification. UTSA is the first university in San Antonio to receive the program's highest designation, which recognizes businesses for their waste reduction and recycling efforts.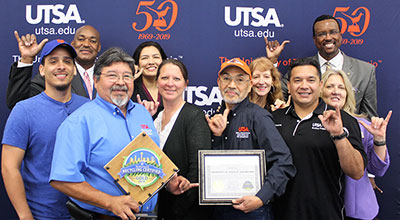 City of San Antonio Solid Waste Management Director David W. McCary presented the award to UTSA staff and leadership at a May 7 ceremony on the university's Main Campus. UTSA earned high marks for its waste reduction and recycling best practices such as proper signage, green purchasing policies and regular recycling training.
"It was a real pleasure to see all the great work UTSA is doing, from all the different types of outreach, to the surplus program and how the university reinvests recycling revenue back into the program for improvements," said Brian Halverson, environmental services manager in the City of San Antonio's Solid Waste Management Department "Very impressive work."
Richard Garza and Anastacio Alvarez of UTSA's Environmental Health team spearheaded the university's entry into the program. They manage UTSA's recycling program and provide updates to the UTSA Sustainability Council.
UTSA was scored on a range of criteria including general practices, equipment and facilities, communication, recycling strategies and networking.
"We are thrilled that UTSA is a leader in the commercial recycling movement, and we encourage other businesses and institutions to join the movement in San Antonio to reduce, reuse and recycle in the workplace," said Mikel Brown II, City of San Antonio commercial recycling management analyst.
Recent sustainability efforts at UTSA include:
Planting 100 trees on campus and donating 300 to San Antonio residents
Cleaning up San Antonio waterways during Basura Bash
Raising awareness about waste reduction through the RecycleMania competition, where UTSA finished No. 1 in Texas and in the top 10 in North America among participating colleges
Collecting 10,440 pounds of documents to shred and recycle
Green Society at UTSA regularly educates the university community on what items can be recycled on campus
UTSA students, faculty and staff were recently awarded funds for sustainable project proposals to be implemented at UTSA
"UTSA's recycling program, founded by the Office of Environmental Health, Safety and Risk Management has grown to be a powerhouse in just a few short years," said Mei Lani Cabico May, UTSA Director of Sustainability. "The university's efforts have created a campus culture that embraces a sustainable product stream and engendered a reduce and reuse mode of operation within multiple departments at UTSA.
Learn more about UTSA's recycling program.
Learn more about ReWorksSA.