Kudos to Dennis Layman on Receiving His PMP
January 28, 2020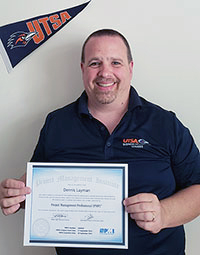 Congratulations to Dennis Layman on receiving his Project Management Professional (PMP) certification this past fall. Layman currently works in Business Information Services (BIS), where he serves as a business analyst II. He has been a part of the Roadrunner family since July 2012.
Layman was encouraged to pursue his PMP because of the many projects BIS participates in or leads. Always looking for new challenges, he decided to embark on this journey. BIS Director Carlos Gonzales stated that "Dennis put in a lot of hard work to prepare for the exam, and should be commended for his efforts and accomplishment." 
The PMP is a globally recognized and highly demanded certification. Being certified as a Project Management Professional demonstrates to employers, clients and colleagues that the project manager possess project management knowledge, experience and skills to bring projects to a successful completion. To achieve the PMP certification, an extensive number of project management education and experience is required.
Layman plans to use his new knowledge to better lead future projects that involve PeopleSoft, Rowdy Exchange or BIS — all of which will benefit the UTSA community.
Business Information Services
News