UTSA Recognized for Outstanding Participation in National Night Out
January 23, 2020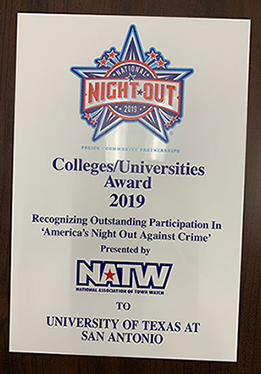 The National Association of Town Watch (NATW) recognized UTSA as one of the top four universities with outstanding participation in America's Night Out Against Crime. The award was received due to the diligent work of the UTSA Police Department, UTSA Student Activities and Target stores, along with other departments at UTSA.
UTSA Police Department coordinated the 10th annual National Night Out on Tuesday, Oct. 1, 2019. More than 1,200 students, faculty and staff attended the free event. Councilwoman Shirley Gonzales and Councilman Manny Pelaez were also in attendance to show their support. UTSA cheerleaders, the SOSA ban and Rowdy made this national event interactive and special for the campus.
National Night Out is an annual event held to create awareness about crime and drug prevention.