Chief Lewis Nominated for Campus Safety Director of the Year
March 8, 2021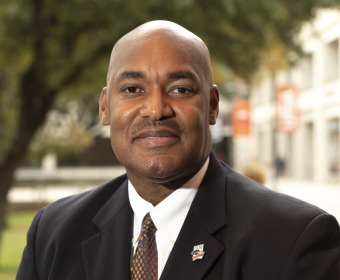 Campus Safety Magazine, a news and informational network for campus security specialists, recently nominated UTSA Associate Vice President of Public Safety and Chief of Police Gerald Lewis as a finalist for the Campus Safety Director of the Year Award.
Lewis has been a proud Roadrunner since he joined UTSA in 2016. He helped to create various safety programs to improve security around the campus and get students involved in ensuring their campus community remained as safe as possible. Some of his notable achievements include:
Implementing the Rowdy Watch program that recruits students to patrol the campus with a golf cart, check safety equipment and act as escorts to any concerned students.
Starting the Safety Walk program to identify various safety issues on campus, which resulted in new LED lights, as well as other aesthetic features.
His improvements elevated UTSA to become the second safest university in Texas and 30th safest university in the nation.
"My reaction to being nominated and selected as a finalist for the prestigious award of Campus Safety Director of the Year was a deep appreciation and thankfulness for the men and women of the UTSA Department of Public Safety who are dedicated to providing a safe environment for our students, faculty, staff and visitors," said Chief Lewis
Lewis is competing with 16 other candidates for the award. The winners and runner-ups will be announced June 11-13 at the Campus Safety Conference East in Washington, D.C.