UTSAPD Presents National Night Out
September 22, 2021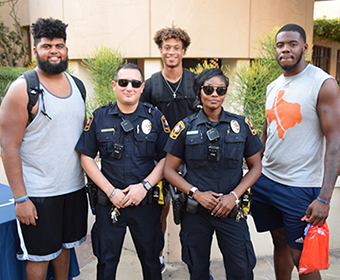 Each fall, the UTSA Police Department (UTSAPD) and the Roadrunner community come together for National Night Out. This exciting event is an opportunity to take a stand against crime while working to make our university a safe, caring place to live, learn and work. 
UTSAPD invites the campus community and the public to join this annual event. National Night Out celebrations will take place Tuesday, Oct. 5 in the Student Union Paseo (near the H-E-B Student Union) on the Main Campus. Festivities kick off at 6 p.m. and end at 8 p.m. The event is free to join.
To kick off the festivities, UTSAPD will also host a National Night Out Kickoff Party at the Downtown Campus, September 29 from 11:30 a.m. to 1:30 p.m. Enjoy free snow cones, fun music, and a game of cornhole.
Interim Chief of Police Stephanie Schoenborn and Assistant Chief of Police Daniel Kiley will kick off the event. Activities include tabletop carnival games, an impaired driving simulator, a photo booth with props, and door prizes. Bring a donation for the Whataburger Resource Room for your chance to "Dunk a Cop". Enjoy appearances by the Spirit of San Antonio (SOSA) Marching band, UTSA Cheerleaders, Rowdy and music by DJ Gumby. Special thanks to H-E-B and Walmart for their support of UTSA's 2021 National Night Out celebration.
UTSAPD hosts National Night Out each year to strengthen the relationship between Public Safety and the campus community. Students, faculty and staff can do their part to participate in keeping our campus safe by downloading the free UTSA LiveSafe app. This app makes it easy to immediately report crimes, suspicious activity or concerns, and provides access to the SAFEWALK feature both on- and off-campus.
For more information about UTSA National Night Out, contact UTSAPD Community Affairs at (210) 458-6250 or email veronica.waelbroeck@utsa.edu.