UTSA Celebrates Our Police Communication Officers
April 8, 2022
The UTSA Police Department (UTSAPD) communication officers often go above and beyond in their roles as the first point of contact during an emergency on campus. While each have many reasons for choosing a career in police communications, each brings a critical talent for listening and engaging those in need. 
National Public Safety Telecommunicators Week (NPSTW), held April 10-16, recognizes our police communications officers, who are a critical component of emergency services to the public. To learn more about the history of NPSTW, visit their website.  
This week is a time to celebrate and thank our UTSA communications officers as they work hard to serve the Roadrunner community 24 hours a day, seven days a week. 
Meet the UTSAPD police communications officers!
Jeffrey Volz
I had originally planned to get my foot in the door with the department in telecommunications, and later, become an officer; but there is a draw to the communications work that I did not know about before I applied. Being the first contact with our community members and providing them the help they need and working with such an outstanding group of people is what keeps me here.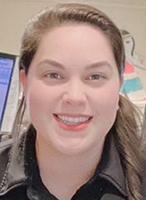 Lindsay Rule
As a UTSA alumna, I'm proud and honored to serve and provide safety to the community I was once a part of as student.

Philomena DeHoyos
Officers have always been a part of and very close to my family, whether through police or military affiliation. My favorite mentors have all served their country on a police force or both! Although I still have a hard time seeing myself as an officer, I felt a sense of pride when I considered becoming a dispatcher to honor those who have guided me the most. This career is my salute to the men and women who paved the way for me.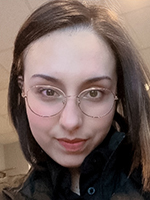 Daniela Zavala
I decided to join Police Communications because dispatch is the heart of the department — here is where everything starts. We are the very first person our community talks to when in need, and I'm proud to be part of that.

Heather Gartrell
I chose Police Communications because I wanted to be a positive influence in my community and to help people when it is needed. When I attended UTSA as a student, I felt safe on campus. Now, years later, I'm happy to be a member of the team that provides that safe environment.
Monica Crist
I chose to become a Police Communications officer because I was inspired by this positive role. I have been in this career for 19 years, and about 21 years ago, I had an encounter with a wonderful dispatcher who provided her compassionate services to a very close family member of mine. She influenced me to make a difference in other's lives and help my local emergency response.

Lisel Rios
I didn't choose the career; the career chose me. After getting into the grove of the position, I knew this career path was for me because I love helping people out and always give me best effort when I do.
April Saenz
I chose to be a Police Communications officer to serve my community by helping people in their time of need. I strive to make sure everyone is safe, no matter the situation. 

Sandra Herrera
I've always been a person who puts helping people first. I take pride in serving the community, the students and staff at UTSA. I also evaluate current work processes to help identify areas of improvement. I'm looking forward to continuing to fill a role in community service for many years to come.

Gilberto Morales
I have been a Police Communication officer for 24 years.