Announcing the Arrival of VPBA Veronica Mendez
January 7, 2019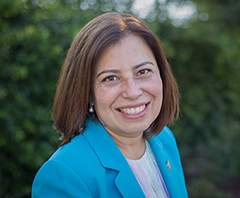 Veronica Mendez has been appointed UTSA Vice President for Business Affairs. Mendez joins UTSA beginning Jan. 6, 2019, bringing her 16 years of experience in higher education to provide leadership in finance, human resources, institutional research, and strategic and business intelligence initiatives.
As VP for Business Affairs, Mendez will provide oversight and stewardship of the university's financial resources. A key member of the UTSA Senior Leadership Team, she will help advance the UTSA vision to become a student success exemplar and nationally competitive research university.
Her initial priorities will include oversight of UTSA's transition to a new budget model, which will help the university create a strong foundation for fiscal health while laying the groundwork for growth and innovation. The new model began as a year-long pilot on Sept. 1, 2018 and will be fully implemented in fiscal year 2019-2020.
As the university's chief financial and administrative officer, Mendez will provide leadership in advancing other ongoing initiative, including the Campus Master Plan and the expansion of the Downtown Campus. Additionally, she will oversee business affairs administration, budget and financial planning, business contracts, business information services, facilities, financial affairs, human resources, public safety and purchasing.
Mendez had been serving as vice chancellor and chief financial officer at the University of California, Merced. At UC Merced, the University of California System's youngest university, Mendez made significant contributions to the success and momentum of the Merced 2020 Project. This four-year, $1.3 billion initiative is adding 1.2 million gross square feet to the university's campus footprint. She led the development of the project's comprehensive financial plan and its organizational structure.
Mendez earned her bachelor's degree in applied arts and sciences – management and her masters of business administration at UT-Brownsville (now University of Texas Rio Grande Valley). She began her academic career there, spending 12 years in senior leadership roles focused on finance, budget development, facilities, capital planning and project management, overseeing a $3.9 million operational budget.
Throughout her career, she has participated on several boards and has served as president of the Texas College and University Facilities Association. She was recognized as one of Texas's Outstanding Women in Government in 2010. Mendez looks forward to furthering UTSA's mission as a nationally recognized research university and Hispanic-thriving institution. She is pleased to return to her home state and to be closer to family.
Mendez succeeds UTSA Vice President for Business Affairs Kathy Funk-Baxter, who served in this role for nearly four years.