Spotlight on Veronica Mendez
January 15, 2019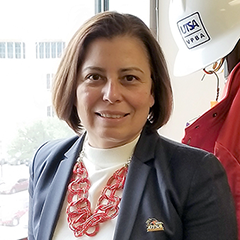 If you're a visionary who wants to grow your university, while ensuring that students succeed, who do you call? In the past five years, Veronica Mendez's phone has rung with two such offers. She was invited to "dream big," first at UC Merced and now at UTSA. 
The Brownsville native grew up with one foot on each side of the Mexican border. Her grandma instilled in Veronica the can-do attitude she'd sharpened as a field hand near Matamoros. As a first-gen college student, Veronica majored in management at UTB and later earned her MBA there. A true Scorpion,* she joined the "necessarily efficient" UTB staff in 1994, rising to the position of AVP for Facilities and Planning.
She was wooed to UC Merced by the enticement of managing the doubling of its campus size. Veronica, who describes herself as "curious with a love for learning," welcomes a challenge. So she headed west to take the reins of the Merced 2020 Project.
Veronica attributes her success to the firm grounding and strong Mexican cultural values she picked up from the strong women in her family. And she has passed them along to her own two daughters. The oldest, Cristina, graduated from Baylor in 2012, then joined Teach for America, guiding students from Woodland Academy. Last year she completed her Master's in Public Policy at UT Austin, making the drive to the capital city from NW San Antonio. Daughter Debbie, who attended UTSA, is a culinary student in Mexico City, honing the family's cooking traditions.
Veronica is pleased to be back in her home state and the university system that kick started her career. "San Antonio is a terrific city that's growing into one of the country's leading urban centers," she said. "UTSA is the perfect place for me. It's a Hispanic-serving university that welcomes and nourishes first-generation students as it's reaching to achieve world-class status. UTSA has become a primary anchor of this city, and the growth in Downtown will accelerate our importance regionally and nationally. We have the potential to do so much more."
She looks forward to working with the Business Affairs team to support the university's strategic initiatives and keep us all directed toward our mission.
*the Scorpion was UTB's mascot. UTB is now part of UTRGV.