Financial Affairs' Debra Villanueva Wins Second Quarter Celebrating Excellence Award
April 22, 2019
Helping Advance UTSA's CyberSecurity Leadership While Easing Telecommuters' Transition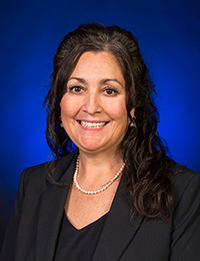 Debra Villanueva, Financial Affairs' Administrative Services Officer III, earned the Business Affairs Celebrating Excellence Award for the second quarter of FY19. She also received the Financial Affairs BRAVO Award during a meeting of Financial Affairs staff on April 19, 2019.
Debra was recognized for taking on the new and difficult task of supporting 50 employees beginning their journey to telecommuting. She supported this large-scale move with efficiency and care. Her administrative support during this transitional period was essential to ensuring a successful telecommuting adjustment.
From ordering furniture, computers and peripherals, to facilitating meetings before and after the changeover, Debra devoted tremendous time and energy to helping her colleagues succeed. She liaised with OIT to make sure all employees had training on MS Teams and Skype, all of their A/V equipment was working, and their equipment questions got answers. Her determination to have the smallest details ironed out simplified the employees' transitions.
Since this project was more extensive than any done previously, Debra made sure to address the widest range of issues affecting telecommuting employees. For any question the telecommuters had, Debra was there to assist them. In addition to handling all the administrative aspects of this major move, Debra continued to manage her regular office responsibilities.
During this time, Debra has also been working to strengthen the Financial Affairs' work-study program. She's had students cross train in various areas, expanding their roles from the traditionally focused, single-purpose positions. This expanded knowledge and skills building will empower the students to become more versatile and will augment their professional development and experience.
Debra's successful management of the many processes involved in transitioning these 50 employees hinged on her careful attention to detail and execution. The deployment of Financial Affairs to telecommuting advances UTSA's Strategic Initiative for the National Security Collaboration Center by freeing up about 20,000 square feet of space. Debra's administrative oversight was an essential piece of the project's success. Meanwhile Financial Affairs employees are benefiting by spending fewer hours—and dollars—driving and parking. Debra's gift of efficiency to her office truly embodies the spirit of the Business Affairs' Celebrating Excellence Award.