Business Affairs' Dr. Lorenzo Sanchez Wins Order of the Roadrunner Award
April 15, 2019
Dr. Lorenzo Sanchez will be presented the Order of the Roadrunner Award on April 18 at the 2018-2019 University Excellence Award Ceremony. Since his hiring in 2011, Lorenzo has proven that he is the ideal person to head the Office of Business Continuity and Emergency Management. Researching and implementing emergency protocols is a big task when an entire university depends on your work. Dr. Sanchez has embraced this challenge, going above and beyond to provide a safe campus community.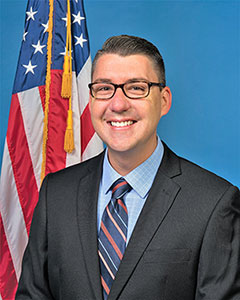 The Order of the Roadrunner Award is presented to a member of the UTSA family who overwhelmingly increases productivity and efficiency by generating creative solutions. Lorenzo exemplifies this.
His relationship with the City of San Antonio Emergency Management Office and participation in its Emergency Operations Center meetings allow him to prepare and coordinate emergency action plans for UTSA. With this knowledge and support, Lorenzo conducts briefings with new UTSA employees, students, and parents. He and his team disseminate emergency plans campus-wide, demonstrating a positive, public commitment to safety at UTSA and our community.
In 2018, Dr. Sanchez hosted the DHS National Seminar and Tabletop Exercise for Institutions of Higher Education (NTTX), which is initiated by the U.S. Department of Homeland Security (DHS) and the Federal Emergency Management Agency (FEMA). Lorenzo had to obtain funding for the event, which took place in September on UTSA's Main Campus. He secured donations from Virtual Corporation, Cisco Corporation, Presidio, and the UT System Texas National Security Network and UTSA's Office of the Vice President of Business Affairs totaling $32,500. Throughout the event, Dr. Sanchez showed true southern hospitality to the nearly 500 participants from all over the nation.
Guided by his extensive experience and knowledge, Lorenzo has a wide range of responsibilities on campus, such as managing the Giant Voice System, Rave Mobile, the Campus Alert web page, Alertus desktop computer emergency notification system and other emergency tools. He continually compiles data from weather radars and rainfall totals to monitor and predict weather patterns, and he provides warning to campus constituents when necessary. Dr. Sanchez has supplied all classrooms and offices with a UTSA Emergency Response Guide that covers such situations as bomb threats, active shooters, and severe weather. He takes all precautionary steps to create a safe environment for everyone on campus, which offers assurances to current and prospective students, employees and family members.
Despite a heavy—and critical—workload, Lorenzo managed to earn his Ph.D. in Applied Demography from UTSA in May 2018. His added credentials confer a higher level of professionalism to the Department of Public Safety and UTSA, as we aim to ascend into the ranks of R1 designated universities.
Dr. Lorenzo Sanchez's guidance on and support of a wide breadth of projects and assignments has made him an indispensable asset at UTSA. It is because of his distinguished intellect, experience and passion that members of the campus can feel safe.