UTSA PD Leads Second Annual Safety Walk
April 18, 2019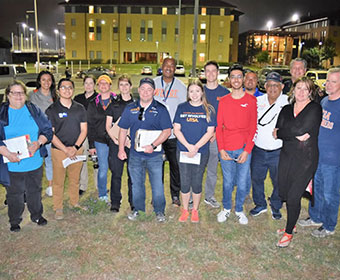 The UTSA Department of Public Safety partnered with various members of the university community to conduct the Second Annual UTSA Safety Walk of the Main Campus on April 16, 2019. It was designed to identify and mitigate potential hazards faced by members of the campus community. The group included representatives from the UTSA Police Department, Environmental Health Safety Risk Management, Facilities and Student Government Association (SGA). 
The walk began at 8 p.m. to allow participants to more easily identify lighting issues and other safety deficiencies during the evening hours. The Safety Walk route was pre-planned to help university leaders assess whether key elements of our current safety and health initiatives are effective and efficient.  
The Safety Walk team looked at lighting in high traffic areas and popular short-cuts used by students, faculty and staff, particularly during evening hours. They want to determine if current lighting is operational and sufficient and to assess any additional lighting needs.  

They also looked for physical hazards, such as cracks in walkways that pose tripping hazards, and frayed/exposed electrical wires. They examined the landscaping to decide if trees or other greenery need to be trimmed so they are not blocking lights, which could contribute to an unsafe environment. The team looked for property damage such as walls or doors that may have been damaged due to age or equipment failure. This damage may indicate a potential for future safety problems. 
The group took photographs of all identified hazards. They next will draft a detailed abatement plan containing a list of the hazards found, corrective actions needed, and a reasonable timeline for implementation and correction. It takes a collaborative effort among multiple university departments to correct all the identified hazards and to establish a reasonable timeline for each.   
A comprehensive report will be compiled documenting the findings. A Downtown Campus Safety Walk is scheduled for Tuesday, April 23, 2019. The Safety Walks demonstrate the university leadership's commitment to safety for students, employees and guests.
Participating in the Main Campus Safety Walk Team were:
Public Safety Representatives:
Chief Gerald Lewis
Assistant Chief Daniel Kiley
Captain Stephanie Schoenborn
Captain Douglas Sonego
Corporal Maranda Tupper
Executive Director of Strategic Initiatives Annette Parker
EHSRM Director Kristee Phelps
Facilities Representatives:
Asst. VP Facilities Administration Luis Borrero
E&G Zone Supervisor Matthew May
Events Operations Manager Frederick Wiedner
Assistant Director of Utilities Operations James Jinks
Office of Sustainability/CACP Representative:
Director of Sustainability Mei-Lani Cabico May  
SGA Representatives:
John Rust
Azfar Budhwani
Kaitlyn Law
Jose Escobedo