A Little Luck and a Lot of Hard Work
May 8, 2019
Financial Affairs' Elisabeth Cuadros Earns Her Ph.D.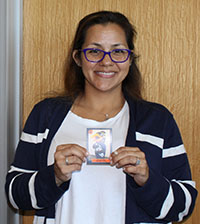 Elisabeth Cuadros dropped out of the ninth grade at Mansfield High School in 1993. "I was a complete wild child," she said. "I ran away from home and became a teenage single mother. I do not recall thinking about the importance of an education in those years. My mother and father never went to college, and I don't remember anyone ever discussing this option with me."
Cuadros eventually earned her GED when she was 17 years old. "My mother encouraged me to test for it," she added with grin. "I knew it needed to be done to better my chances at finding a job."
She began taking classes at Northwest Vista College when she was 25 years old. Her motivation for starting college was her youngest daughter. "She was five when I started school, and she was my driving force," Cuadros said. "I wanted better for her. And I wanted to be better for her… a better person, a better mom she could be proud of and look up to."  
Cuadros earned her AA in liberal arts from Northwest Vista College in 2008, and went on to get a BBA in management with a concentration in international business from UTSA in 2011. She followed that up with an MBA in general business with a minor in accounting from Texas A&M — Commerce in 2014.
For the past eight years, Cuadros has worked in the Financial Affairs division of UTSA's Business Affairs. She began her career at UTSA as a DTS I in March of 2011. She was eventually promoted to DTS II, a DTS supervisor and the assistant director. After seven years with DTS, she moved over to Financial Information Systems as a procure-to-pay analyst. In her new position, she researches and assists with the correction of system issues, creates business processes and tests functionality of PeopleSoft. 
She graduated in May 2019 from Our Lady of the Lake University with a Ph.D. in leadership studies. Her thesis was titled "Removing the Mask: Exploring the relationship between Servant Leadership and Conformity."
"It's been a long journey from being a ninth grade drop out to earning a doctorate, but I am proof that it can be done," Cuadros said.
Her motivations are both personal and familial. "My mother has been a tremendous source of support," she explained. "I pull energy from my daughters as well. When my girls were born, the thought of them going to college never crossed my mind. Now, one is a junior at UTSA studying environmental science, and the other is a sophomore at Iowa Lakes on an athletic scholarship."
Cuadros was recently hired as an adjunct professor to teach undergraduate and graduate-level business courses. She is a co-founder of The San Antonio Institute for Leadership (SAIL), where she hopes it will serve as a hub for collaboration in research, youth leadership development and community engagement. 
We congratulate Cuadros and salute her many achievements and her contributions to UTSA.