UTSA Chief of Police to Lead University of Connecticut Police Department
April 8, 2021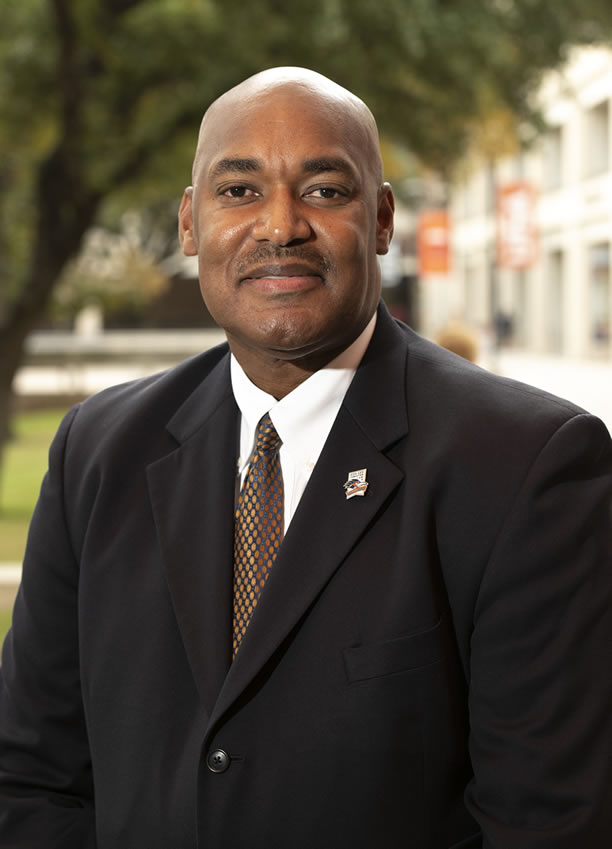 Gerald Lewis Jr. Selected as UConn's Next Chief of Police
Business Affairs bids farewell to Gerald Lewis, chief of police and associate vice president of public safety at UTSA. Lewis has been named chief of police at the University of Connecticut Police Department, effective July 1, 2021, and will lead more than 100 sworn police officers assigned to seven campuses.
"During his time at UTSA, Chief Lewis's accomplishments made invaluable positive impacts to our campus," said Veronica Salazar Mendez, chief financial officer and senior vice president for Business Affairs. "On behalf of university leadership, I wish him much success in his new role, and I thank him for his leadership and service to the Roadrunner community."
Lewis joined UTSA in August 2016. During his tenure, the department introduced a variety of programs that expanded and improved campus safety, including the LiveSafe app, the Annual Safety Walk Program, the Rowdy Watch Student Patrol, and Fair and Impartial Policing Training. Thanks in part to his efforts, UTSA was named one of the nation's safest college campuses and received the Excellence in Campus Advocacy and Action Award from the Texas Association Against Sexual Assault.
"I want to thank the Public Safety team for their hard work throughout my tenure. Together, we achieved great things," said Lewis. "I am thankful for the strong relationships I developed during my time at UTSA. I'm especially proud to have served as a staff advisor to the Black Student Union. The opportunity to support our student groups, including the Student Government Association and Spectrum, has been a phenomenal experience."
Earlier this year, Lewis was nominated as a finalist for the Campus Safety Director of the Year Award by Campus Safety Magazine. He is also a recipient of the prestigious NAACP President's Award and the 2018 UT System Police Pacesetter Department of the Year award.
Whether leading student organizations or providing support in challenging times, Lewis understood the importance of his role both on campus and in the San Antonio community. From working with others in the UT System to partnering with local law enforcement, city council members and more, Lewis fostered a support network that will continue to benefit the university.
"My experiences at UTSA are invaluable," said Lewis. "I am immensely grateful for the support I received during my time as a Roadrunner."
Mendez will initiate the engagement process with university leadership to identify and name interim leadership for Public Safety immediately. A national search for the next permanent police chief will be launched shortly thereafter.