MADD Honors UTSA Officers
September 24, 2021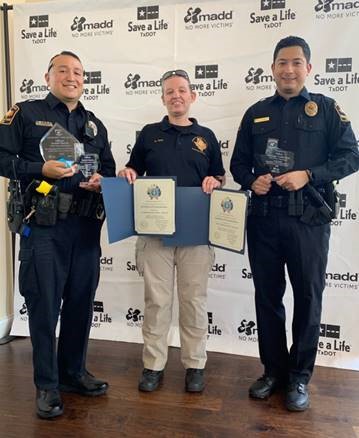 UTSAPD Officers Isaiah Garcia and Santiago Valdovinos were recently recognized for their efforts in combating impaired driving. Each received an award for DWI Enforcement, and Officer Garcia was also recognized with a Commitment Hero Award during the 10th Annual Take the Wheel Law Enforcement Recognition Luncheon, hosted by Mothers Against Drunk Driving (MADD) South Texas.
Officer Isaiah Garcia is deserving of the Enforcement Hero Award because of his initiative on shift and conducts thorough investigations to uncover of alcohol-related offenses, said Sgt. Molly Ralph, Officer Garcia's supervisor. Officer Garcia had the most DWI arrests for 2020, with the majority of those cases stemming from proactive, self-initiated activity. I also nominated him for the Commitment Hero Award because of well he uses his experience and knowledge assist his coworkers on scene with drug and alcohol-related offenses.
Officer Santiago Valdovinos was nominated for the Enforcement Hero Award because he issued the most citations for alcohol-related offenses for 2020, Sgt. Ralph continued. Officer Valdovinos is very proactive with on-campus patrols. In many cases where he has been dispatched or located drinking on campus, his actions have likely helped to prevent a number of situations from getting worse, such as ensuring a person gets medical attention or allow people to leave and become impaired while driving."
Officers Garcia and Valdovinos were recognized along with officers from many local agencies, such as Live Oak, Castle Hills, SAPD and DPS for their efforts in combating impaired driving. Also recognized were prosecutors, judges and community partners. 
The "Take the Wheel" Initiative is funded by a grant from the Texas Department of Transportation and is designed to raise awareness of the community commitment needed to stop drunk driving. Through this campaign, Mothers Against Drunk Driving (MADD) aims to enlist the support of city officials, law enforcement, schools, businesses and other community members to work together collaboratively to eliminate drunk driving in our state.
Congratulations Officers Garcia and Valdovinos for keeping our campus and community safe!