Capt. Thomas Calucci Graduates from the FBI National Academy
August 25, 2022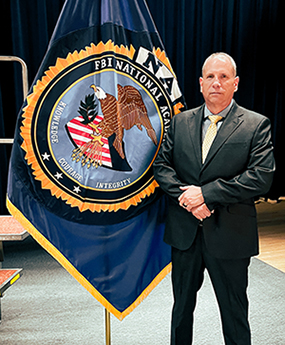 Congratulations to Capt. Thomas Calucci, who recently graduated from the 282nd session of the FBI National Academy in Quantico, Va. The National Academy is a 10-week training program held four times a year for law enforcement leaders across the United States and abroad. Nominated to participate for his outstanding leadership qualities, Capt. Calucci was part of a program that serves to improve the administration of justice. Participants push themselves physically and mentally through coursework in intelligence theory, terrorism, law, communications and forensic science, among others. 
When nominated for the academy, Capt. Calucci began by preparing physically, as the program would require rigorous training. "I knew that the physical training part would be challenging for me because of my age — I'm not 25 years old anymore," said Calucci. "Despite the challenges, attending the National Academy was the best 10 weeks of my professional life."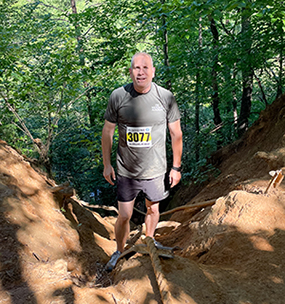 As Capt. Calucci neared completion of the program, his final hurdle was what the National Academy calls The Yellow Brick Road, which is a grueling 6.1-mile obstacle course built by the U.S. Marines. Moving through the course, he scaled rock faces with ropes, crawled under barbed wire in muddy water, jump through simulated windows and more. The course became known as the Yellow Brick road after Marines placed yellow bricks along the trail to guide participants. Each graduate receives a yellow brick for completing the course. 
Looking back on his time on The Yellow Brick Road, Capt. Calucci noted that this endeavor and additional National Academy training required participants to push themselves outside their comfort zones. He shared that "there were a few times when I thought 'what am I doing?'. To get through it, I stayed focused and understood that there was no other place I would rather be at that moment."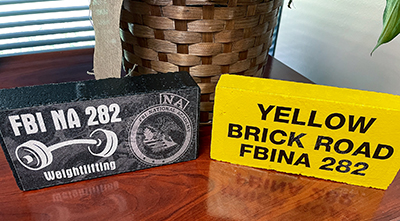 In completing the course and the academy, Capt. Calucci not only pushed himself to "get it done" through steadfast determination, but also through the comradery he and his classmates fostered as they supported and encouraged each other. In the end, Capt. Calucci brought home his hard-earned yellow brick. 
Capt. Calucci has been with the UTSA Police Department since 2000. Prior to that he was an officer in his native New York and then a municipality near Waco, Texas. He attended the 70th UT System Basic Training Academy in Austin, Texas. A graduate of Wayland Baptist University, Capt. Calucci is now on the path to a Master of Science Degree in Clinical Mental Health Counseling at UTSA. His studies help him approach public safety situations with a balance of mental health and public safety protocol. 
He was promoted to captain in June 2018 and oversees the Specialized Services Division of the Police Department, which includes the Criminal Investigations Section, Communications Center (dispatch), Community Affairs and Behavioral Intervention/Threat Assessment (BIT). He also serves as co-chair of the BIT Team. As a member of the National Association for Behavioral Intervention and Threat Assessment (NABITA) advisory board, he participated in the "Talking BITs" video series where he spoke about team leadership. 
After his experience at the National Academy, Capt. Calucci hopes to share new behavioral analysis techniques that describe the "pathway to violence" and how different steps can lead up to an individual committing a violent act. This includes identifying certain red flags to avoid implications and dangerous situations. Red flags might include talking about harming others; withdrawal from friends, family and social activities; history of abusing animals or setting fires; collecting multiple grievances to justify continued hatred or violent response; or preoccupation with weapons. 
Capt. Calucci's takeaways from the National Academy also included in-depth discussions on human development. "The discussions about serial offenders and other similar criminals were very interesting and extremely informative," said Capt. Calucci. "Certain personality disorders that form early in a person can lead to behavior patterns you may see in a serial offender." 
As he thinks about his time at the National Academy, Capt. Calucci is grateful for the opportunity and nomination, and encourages participation in the program. He also offers some final words of advice: "Never stop learning. Never stop reaching. Never stop trying to better yourself."