Red Ribbon Week Keeps Making a Difference After 37 Years
November 8, 2022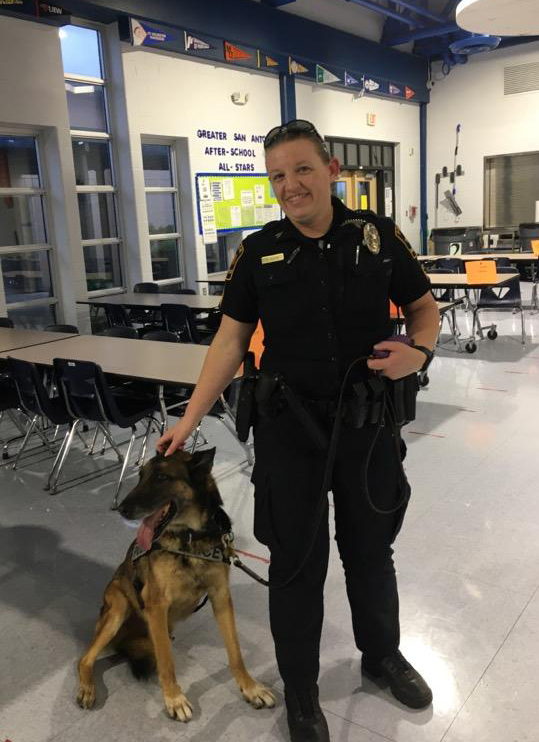 Sgt. Molly Ralph, a patrol sergeant with The University of Texas at San Antonio Police Department (UTSAPD), visited Roosevelt Elementary School with her K-9 Odie on Monday, Oct. 24, as part of Red Ribbon Week. She spoke with students about saying no to drugs, using the people closest to them as their support group and discussed problems the students might encounter, as well as healthy solutions to resolve them. Sgt. Ralph also advised the students about what it's like to be pressured to do something they don't want to do, the harmful effects of drugs and the importance of only taking medication from a trusted source.
Red Ribbon Week is the nation's largest and longest running drug prevention campaign that takes place from Oct. 23-31 each year. The event began in 1985 to honor Drug Enforcement Agent Enrique Camarena's fight against illegal drugs. During the campaign, people wear red ribbons to symbolize their commitment to raise awareness about the dangers of using drugs.
The highlight of the presentation for the children came when Sgt. Ralph introduced Odie, her retired narcotics K-9. When sharing what she enjoyed most about the taking part in Red Ribbon Week events she said, "I really like how excited the kids are to see the K-9 every time. Having K-9 Odie while he was working, and now retired, has provided so many amazing opportunities to meet and talk to people of all ages. This is an experience I wouldn't have otherwise had."
Odie played a big part in engaging the students during the presentation. Sgt. Ralph said, "Many students relate to having a dog and think it's neat to have a chance to see a K-9 since there are not many in law enforcement. Not all K-9s are like Odie, who is suited to do things like get close to people, especially children."
Sgt. Ralph has worked with Odie since July 2011 when The University of Texas at Rio Grande Valley—then The University of Texas Pan American—started their K-9 unit and began giving Red Ribbon Week presentations in 2012. She has been with UTSA since Nov. 2, 2020, and currently serves as a patrol sergeant where she supervises the night shift officers and overnight police operations for UTSAPD.
According to Ralph, "It's always rewarding to have positive dialogue with the community, especially children, because they display genuine enthusiasm." The students and faculty at Roosevelt Elementary school won't soon forget this fun and educational event and are looking forward to seeing Sgt. Ralph and her K-9 Odie for years to come.