UTSA Senior Brings Sustainable Hygiene Products to the Whataburger Resource Room
November 7, 2022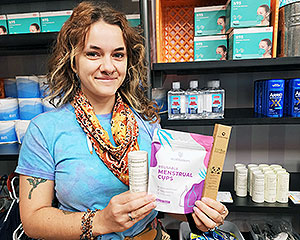 November 7, 2022 -- UTSA student and president of the Green Society Karina Guthmann developed an innovative method to bring sustainable products to the Roadrunner Pantry. As part of an effort to increase sustainability at UTSA, Guthmann submitted an Eco/SUSTAIN proposal to fund her ideas for implementing green hygiene products in the Roadrunner Pantry. Supporting UTSA Sustainability Through Action, Initiatives and Narratives (SUSTAIN) is a university program that funds projects that advance campus sustainability. By investing a small amount of money, approximately 3 cents allocated from scheduled course hours, UTSA makes it possible to support sustainable initiatives proposed by students, staff and faculty each year.  
An environmental science major, Guthmann believes that helping the community is important, and notes that it can be difficult for college students to gain access to sustainable products due to both financial insecurity and unattainability.  
"I love that the Whataburger Resource Room is a free resource that provides groceries to students in need," said Guthmann. "I wanted to focus on the best ways to bring sustainability to campus, and I've identified several sustainable products we could offer."  
In deciding how she could best use the SUSTAIN grant, Guthmann focused on providing access to sustainable products such as bamboo toothbrushes, plastic-free deodorants and menstrual cups. Each one is made from renewable resources which improves each products' compostability. The various products were delivered to the Whataburger Resource Room before the semester began and are currently available to students.  
When asked how students will know if the sustainable products provided are legitimate, Guthmann stated: "It's difficult to greenwash something if the product itself is sustainable." Greenwashing is when a company markets itself as environmentally friendly even though they do very little to minimize a product's environmental impact. This is often done to mislead customers who prefer sustainable products and environmentally conscious companies. "Some companies try to greenwash their products when they are not considered an alternative, but I think it's more difficult to greenwash something marketed as a paper product," Guthmann said.  
Guthmann hopes the next president of the Green Society will continue to pursue stocking sustainable hygiene products at the Whataburger Resource Room. "I'm hopeful that the Green Society will continue to work with the Office of Sustainability to secure an additional SUSTAIN grant and continue the cycle," she said.  
Guthmann is thankful that her Eco/SUSTAIN proposal was funded and believes UTSA students should take advantage of this resource. "The process is simple: a student submits a proposal; it gets reviewed; and if approved, gets funding," she said. "It's important that students are aware of these types of opportunities and find ways to enhance sustainable causes. You could propose projects that give back to the community or discover new ideas for expanding sustainability."  
Guthmann hopes her project inspires other universities to start their own pantries with sustainable products and that it nudges other UTSA students towards taking advantage of the funding opportunities available through SUSTAIN.  
"I'm very grateful for the SUSTAIN funding because that's a resource that gives students the power to change their community," Guthmann concluded. "While one person can make a difference, imagine the impact of a group effort. Small ideas can turn into successful programs with the right support system and a lot of determination."  
Learn more about applying for a SUSTAIN grant on the UTSA Sustainability website.