UTSA's Longest Serving Female Police Officers Share Their Inspiration
March 31, 2023
The 2023 Women's History month theme, "Celebrating Women Who Tell Our Stories," continues the observance of women's contributions to history, culture and society. In recognition of this, Business Affairs highlights the longest serving female police officers at UTSA to tell the stories of their career beginnings, achievements and inspirations. These leaders, along with other female officers, make up 27% of the UTSA Police Department (UTSAPD), more than double the national average of 13%.
Chief Stephanie Schoenborn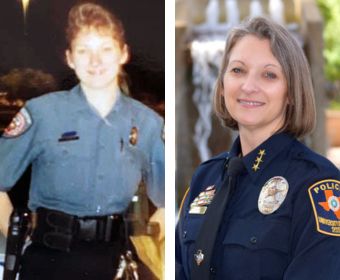 Since joining UTSA Public Safety in 1993, Chief Stephanie Schoenborn has acquired many notable achievements, including graduating from the 238 th session of the FBI National Academy and receiving the Distinguished Command Award from the UT System Office of the Director of Police for her service.
When Chief Schoenborn began working at the university as a clerk, there were only two female officers. Seeing the day-to-day officer reports she typed up inspired her to apply to the UT System Police Academy. In 1995, she graduated from the academy and became an officer.
"I would like to see the field continue to open up to women and have them feel comfortable in this environment," said Chief Schoenborn when asked about the trends she would like to see when it comes to women working in public safety. "Trends in law enforcement lend themselves to skillsets women lean toward. You don't need to fit the 6-feet-tall mold.
"I encourage any woman interested in the field to explore what it involves. Talk to current police officers. Look at other fields in criminal justice. Identify which areas are a good fit for you and how the agency culture will support you."
Sgt. Heather Walleck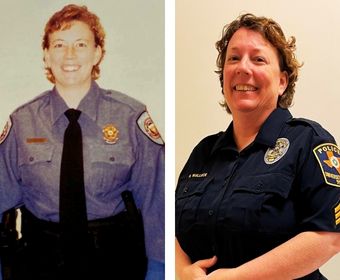 Hailing from the coastal town of Port Lavaca, Sgt. Heather Walleck graduated with a bachelor's degree in history from Trinity University, where she also worked as a guard. During her time at Trinity, Sgt. Walleck wasn't sure if she wanted to dedicate herself to on-the-street policing or focus on lab investigation. In the end, she found that she enjoyed on-the-street police work and that it suited her better. She entered the UT System Police Academy in 1997 and graduated in 1998. At the time, Sgt. Walleck was the only female officer out of 27 officers on staff.
"It's nice to be one of the few," Sgt. Walleck explained as she discussed how proud she was of herself to choose this path. "I realized the importance of our role in my first year as I was called out three different times to assist a woman whose car broke down during a rain storm. Being a police officer goes beyond policing; we help people who are having a hard day, and what we do makes a difference."
Sgt Walleck credits the television show "Cagney & Lacey" for sparking an interest in the criminal justice field. She also draws inspiration from her mother, grandmother and Eleanor Roosevelt, all of whom she admires for their strong work ethic and perseverance through adversity. She would like to inspire other women to discover criminal justice and public safety.
"So much has changed in the field of public safety," Sgt. Walleck emphasized. "There are more women entering police academies, so don't be intimidated by the work. Be true to yourself."
Sgt. Walleck stressed the importance of working together, saying, "Let's make it a better place for all of us."
Sgt. Molly Ralph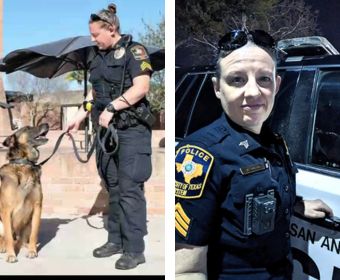 Graduating from Northland College in Wisconsin, Sgt. Molly Ralph joined UTSA in November 2020 after transferring from The University of Texas Rio Grande Valley Police (UTRGV). In her second year, Sgt. Ralph became the first female K-9 officer. She currently serves as a patrol sergeant, where she supervises the night shift officers and overnight police operations for UTSAPD.
When Sgt. Ralph entered the police academy in 2010, she was ready for a major career change. "I worked in residence life, but it wasn't where I wanted to spend the rest of my career," she said. "Having worked with campus police officers early on, a career in law enforcement captured my interest. I had no idea if I would succeed or where it could take me."
After graduating from the academy, Sgt. Ralph would soon learn the many ways a career in law enforcement would be the right decision for her. She vividly recalls a time when she had to assist a potential heart attack victim who refused to move from his position. After calling EMS, she supported the man by engaging him in conversation as they waited. She asked about his family and had him call his son. What she didn't know was that the man had recently lost his wife, and was hoping a heart attack would take him. It was his conversation with Sgt. Ralph that changed his mind. "In talking to me and accepting my help to call his son, he realized he didn't want to die," she said. "He decided to fight through the pain and live. I still think about him a few times a year."  
As inspiring as this was for Sgt. Ralph, she also draws inspiration from her mentors and mother. Her first mentors were Sgt. Delma Lopez from University of Texas–Pan American (now UTRGV) and Lt. Esmeralda Guerra of UTRGV, both of whom taught her valuable skills and different approaches to her job. On a personal level, she recognizes the impact her mother had on her life, including teaching her how to make repairs at their house.
Sgt. Ralph advises women interested in criminal justice to find a good mentor and look beyond the enforcement part of the job. She encourages women to explore various opportunities in public safety and know that there are jobs for any and every kind of person within the field.
Sgt. Veronica Waelbroeck
Sgt. Veronica Waelbroeck is a UTSA alumna who received her degree in criminal justice. She began her career in Public Safety as a dispatcher in 2007, and entered the UT System Police Academy in 2011. In her class of 12, half were female candidates. Of that number, only two made it to graduation.
When first applying to the academy, Sgt. Waelbroeck was worried about failing and was somewhat intimidated by the process, but an officer encouraged her to apply and give it all she's got. He reminded her that she could always change her mind if needed. This advice, along with her grandmother's positive voice and hope for her granddaughter to have a better life than the one she had, bolstered her determination to succeed.
Based on her experience, Sgt. Waelbroeck states that the biggest challenge to women in the public safety field is the self-doubt related to capabilities and knowledge. She encourages women interested in a career in public safety to eliminate their self-doubt by mastering areas they are least passionate about and passing that knowledge on to others.
She also recognizes that this type of career choice may not be for everyone – woman or man.
Sgt. Waelbroeck advised, "Do everything one step at a time and know that if at any point you realize it is not for you, then it's OK to change your mind, but if you love it, use failure to motivate you and know when to ask for help."
Looking Forward
The presence of women in policing in the United States is lower than that of comparable countries. Canada, Australia and the United Kingdom have nearly twice the U.S. percentage of female police officers. To change that, the 30X30 Initiative was launched in 2018 to achieve at least 30% representation in recruit classes by 2030. As of October 2022, more than 200 agencies have taken the pledge to improve the representation and experiences of women in law enforcement.
As Chief Schoenberg, Sgt. Walleck, Sgt. Ralph and Sgt. Waelbroeck shared defining moments in their careers, they also embraced the challenges they've overcome. They encourage women to pursue careers in public safety or criminal justice. Just as with any career path, Chief Schoenberg reminds potential recruits that "every obstacle you encounter and overcome will give you a renewed sense of purpose and belief in yourselves and your decisions."