Capt. Thomas Calucci Delivers Presentation on Identifying Behavioral Indicators
November 9, 2022
Capt. Thomas Calucci, Specialized Services Division Commander with The University of Texas at San Antonio Police Department (UTSAPD), along with Behavioral Manager Ryan Medina and Case Coordinator Ashly Harris, recently met with Southwest Texas Junior College (SWTJC) students to discuss how to keep their campus community safe. With an excellent turnout of approximately 120 students at the both in-person and virtual event, Capt. Calucci focused on identifying behavioral indicators (red flags), the difference between indicators and threat assessment, and where and how to report them.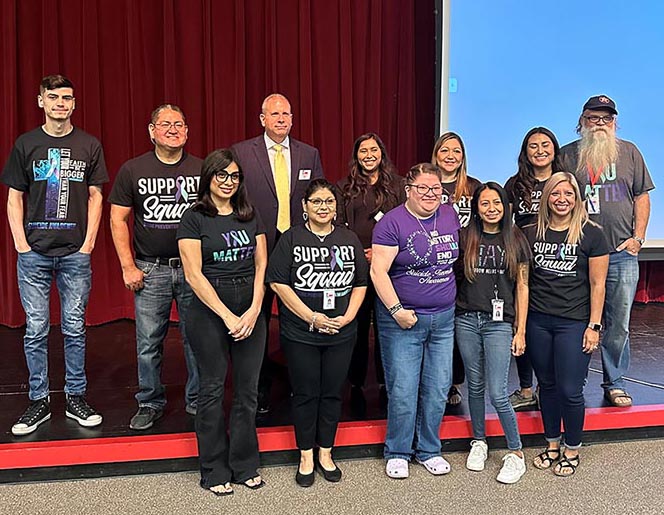 Capt. Calucci with Southwest Texas Junior College's CARE team.
Some of the key presentation takeaways included recognizing behavioral indicators of concern such as statements indicating self-harm or harm to others, written material containing alarming language and indifference for others' personal boundaries. "Understanding behavioral indicators is an important aspect of recognizing potential harm, whether it's to the individual or the community at large," Capt. Calucci emphasized. Other indicators of concern Capt. Calucci mentioned were individuals talking about suicide or expressing hopelessness, significant changes in behavior or withdrawing from normal activities.
Capt. Calucci also met with SWTJC's Consultation, Assessment, Resources and Education (CARE) team, which focuses on assisting distressed students through confidential consultation and referral to resources both on and off campus. Drawing upon his significant background in this subject, Capt. Calucci emphasized the importance of reporting disruptive behaviors and actions that can create a hostile environment or endanger the safety of SWTJC community.
Capt. Calucci currently sits on the National Association for Behavioral Intervention and Threat Assessment (NABITA) advisory board and will be a speaker at their annual conference on campus response to suicidality as well as providing a window into Behavioral Intervention Team (BIT) operations. A recent graduate of the FBI National Academy, Capt. Calucci will discuss best practices on how, when and where to report concerning behaviors and actions.
"Taking action is an important aspect of helping others and ensuring their safety," said Capt. Calucci. "Don't be afraid to speak up — if you see something, say something."
Understanding behavioral indicators and communicating any concerns is imperative to ensuring the safety of every community. Learn more about UTSA's Behavioral Intervention Team and available assistance for students, faculty and staff by visiting their website.