The University of Texas at San Antonio is committed to building a diverse campus community to ensure that students explore their interests, discover new academic and extracurricular pursuits, and learn from each other.
Student Disability Services encourages student with disabilities to seek out opportunities to become leaders through involvement in purposeful, innovative experiences through co-curricular opportunities in the UTSA community. Many of these opportunities are available through registered student organizations or by volunteering with the many departments throughout the Division of Student Affairs. Improve your leadership skills and enhance your resume by becoming actively involved on campus!
UTSA Gamma Phi Chapter of Delta Alpha Pi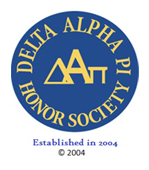 Delta Alpha Pi was founded in 2004 at East Stroudsburg University of Pennsylvania as the first honor society specifically recognizing the academic achievements of students with disabilities. Because of the negative stereotyping associated with disability, students have often been reluctant to identify themselves publicly. Delta Alpha Pi Honor Society presents an opportunity to change that perception by recognizing students with disabilities for their achievements. In addition this honor society facilitates development of skills in leadership, advocacy and education for student participants.
The University of Texas at San Antonio's chapter, Gamma Phi, was founded in the fall of 2014 and is the first official honor society for students with disabilities at UTSA. The three Greek letters stand for Disability, Achievement, and Pride.
Delta: D for disability but also the triangle, symbol of strength. Members demonstrate strength as leaders on campus to help break down the barriers of negativism. Also they serve as role models for other students with disabilities.
Alpha: A for achievement. Alpha is the beginning and academic achievement must come first. But also for advocacy because students must advocate for themselves before they can advocate for others. Members of Delta Alpha Pi enhance advocacy skills for themselves and the rights of all individuals with disabilities to be included fully in society.
Pi: P for pride. Pride in academic achievement and in other accomplishments, not just as students with disabilities but as members of the university community. Pi is a mathematical symbol that we all learn to use in elementary arithmetic classes so Pi is appropriate symbol for education. Delta Alpha Pi participates in activities designed to educate the community and society regarding the need to apply the principles of universal design.
Membership
Members display pride in their academic accomplishments as honor students who happen to have a disability. Delta Alpha Pi members strive to change the negative perception that students with disabilities cannot achieve academically. Through public recognition, leadership and visible participation in educational activities, Honor Society members counteract such prejudice.
Students who are initiated into the Delta Alpha Pi Honor Society should meet the following criteria:
Undergraduates
Present with a documented disability
Complete a minimum of 24 credits
Maintain an overall Grade Point Average of 3.1
Demonstrate an interest in disability issues
Graduates
Present with a documented disability
Complete a minimum of 18 credits
Maintain an overall Grade Point Average of 3.3
Demonstrate an interest in disability issues
If you would like more information about membership or DAPi, Gamma Phi activities, please feel free to contact the UTSA DAPi advisor:
Mary Virginia Getz
Senior Disability Specialist
Student Disability Services
Phone: 210-458-4157
Email: mary.getz@utsa.edu
Irasema Gordish
Disability Specialist II
Student Disability Services
Phone: 210-458-4157
Email:  Irasema.gordish@utsa.edu
Visit the national DAPi website for additional info.