About our Mental Health Services
UTSA utilizes an integrated approach to student physical and mental health to promote student success and wellbeing. The Wellness 360 counseling center provides same-day consultations, short-term individual counseling, group counseling, and psychiatry. To learn more or start services, please call 210-458-4140, option 2, and ask to schedule an in-person or virtual same-day appointment.
Urgent and crisis walk-in services are available during business hours and the 24-hour crisis line can be accessed by calling 210-458-4140, option 3.
My Student Support Program - MySSP is your most accessible mental health resource at UTSA.  Download the MySSP app to call or chat anytime.  Through the app, you can arrange virtual appointments and on-going services.
Learn more about our counseling support and services: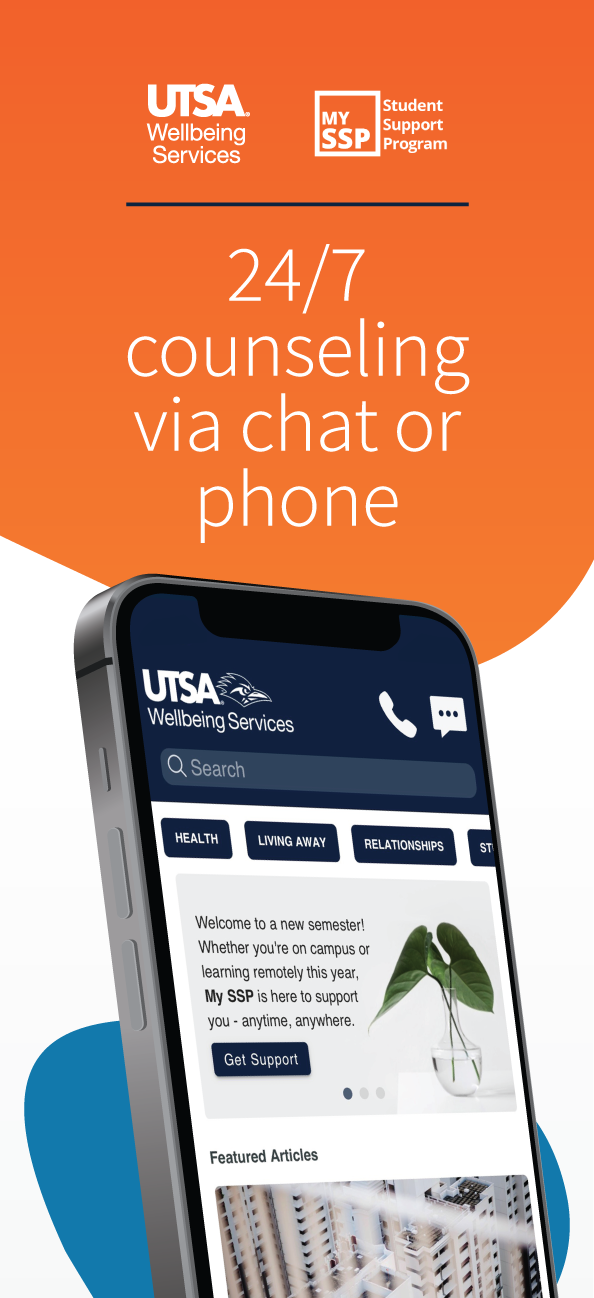 ---
Our Counseling Staff
---
Individual Counseling
Going to college can be a time of growth and stress. Many students experience personal turmoil during this process and some come face to face with crisis and confusion. The counseling staff is available to help students with any issue or concern that they may encounter. In a comfortable and confidential setting, students can examine issues such as gaining independence, managing new relationships, balancing academic stresses, or about making meaningful career decisions.
Common Concerns
Individual short-term counseling may be especially helpful for you if you experience issues such as:
Anxiety
Depression
Relationship Distress
Eating Disorders
Anger Management Issues
OCD
Alcohol/Substance Abuse
Low Self-Esteem
Coping with HIV or other STD's
Self-defeating Behaviors
Sexual Problems
Thoughts of Harming Self or Others
---
Group Counseling
Group counseling is a valuable and effective service. Group participants often report having a rewarding and helpful experience.  Our groups are a great way meet new people, discuss the challenges you have been experiencing, and get a fresh perspective.  By joining one of our groups, you will build support, learn about yourself, but most importantly, you will be reminded that you are not alone. 
Counselors look forward to assisting you to find the right group. They will help you find a group that will promote healthy sense of self, address your specific concerns, and provide supportive environment.
Due to coronavirus restrictions, our groups have been moved to an online video conference format. If you are interested in joining any groups, please visit our RowdyLink page or email us to register.
---
Emergency Situations
If your situation is a crisis or emergency, and it is during business hours, please walk in to our office, at RWC 1.810, and indicate that you have emergency concerns. If you have a crisis or emergency after business hours, contact our helpline at 210-458-4140, select option 3.
Examples of emergency concerns include:
I am concerned about being able to stay safe or keep myself safe.
I currently plan to kill or harm myself.
I have taken steps to end my life in the last two weeks.
I am afraid I might physically hurt someone else.
I hear or see things others do not.
---
Screening Services
The University of Texas at San Antonio offers a variety of screening and assessment services.
On-Line Screenings
Wellbeing Services offers on-line screening for:
Depression
Bipolar Disorder
Alcohol Abuse
Eating Disorders
Generalized Anxiety Disorder
Post-Traumatic Stress Disorder (PTSD)
These free screenings are made available to all registered UTSA students and are taken anonymously. The screening is provided so that you may find out - in a few minutes - whether or not professional consultation would be helpful to you. Your keyword will be "UTSA".

Start Your  UTSA On-Line Screening

Afterwards, if you would like to meet with someone please call us at (210) 458-4140, option 2 or email counseling.services@utsa.edu
---
Getting Started
MySSP
Call or text directly from the MySSP app. 
Open the app and click on the phone or text icon to get started. You will be connected to a MySSP representative who will ask a few questions about your service needs and how you would like to connect.  Share your preferences about modality (phone, text, video), language and appointment time preferences. Please keep in mind that there may be a wait time to connect you to a counselor.
Tips:
If you are seeking real-time support and there is not a counselor available in the moment, MySSP counselors will be happy to call you back.  This does not apply to risk situations which are prioritized and supported in the moment.
If you would like to schedule an appointment, share your request for on-going counseling when you are connected by phone or chat. 
When you connect to a MySSP staff member that connects your call, they will ask you whether you would like to speak with a counselor by phone, text or video.
Drop-In and Check-In Process
Students with crisis, emergency and urgent matters are welcome to drop-in the cinic during business hours.  Drop-in visits are typically 20-30 minutes.  If additional services are needed, the counselor will provide recommendations.
Students can check in to pre-scheduled counseling appointments on the MyHealth portal. If you are dropping in to see a counselor, use the portal to complete the necessary paperwork so we can see you as soon as possible.
The information needed for your check-in is located the in the main window of the platform. The left-hand menu features general health records.
Open myhealth.utsa.edu    
Enter your birthday
On the home page, select "Check-in for an Appointment"
On the appointment page, scroll to "Currently Scheduled Appointments"
Under your scheduled time, select "Appointment Check-In"
Any required forms will load automatically
Once required forms are completed, the counselor will either greet you in the lobby or call your phone.
For virtual appointments. click "Join Your Meeting" or let the counselor know you would like a Zoom link sent to you.