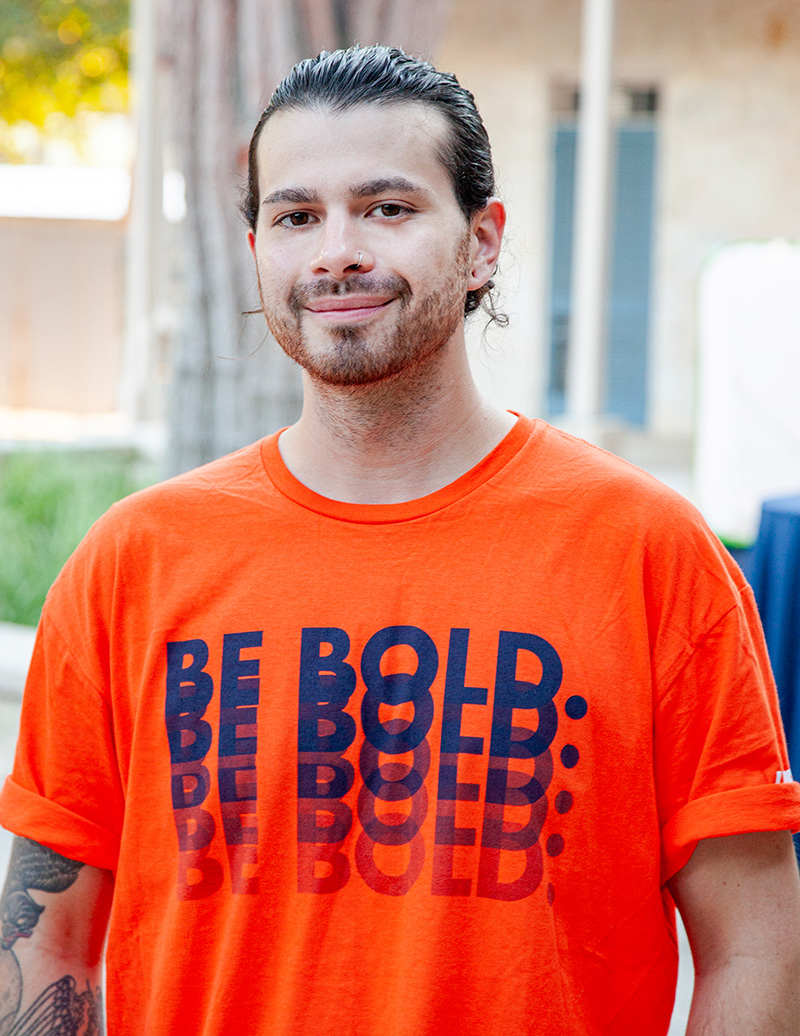 Some of Joseph Hernandez-McCloskey's fondest childhood memories are from the days where he spent time sitting in his grandparents' yard, watching the fighter jets from Randolph Air Force Base take off and pass over their home in San Antonio. These exciting moments created his early interest in aerospace technology. Now, a doctoral student at The University of Texas at San Antonio and a 2022 NASA Space Technology Graduate Research Opportunity recipient, Hernandez-McCloskey has taken his interest in aviation to the next level and outside of our atmosphere. 
Originally attending The University of Texas at Austin as an undergraduate student to receive his bachelor's degree in Aerospace engineering to focus on jet engine design, Hernandez-McCloskey changed routes during his junior year. After listening to a seminar about the NASA Jet Propulsion Laboratory and witnessing SpaceX land their booster for the first time in 2015, he developed an interest in space travel and decided to study powerful rocket engines instead.
"The amount of power that is required to get a vehicle to orbit is immense, so designing something that can create that much power is a pretty fun feeling, one that I want to attain in future work," said Hernandez-McCloskey. 
During his time at UT Austin, Hernandez-McCloskey held two internships at SpaceX in Hawthorne, California working on fluid systems and valve design, as well as rocket engine manufacturing. In 2017, after graduating with his bachelor's degree in Aerospace Engineering, he spent two years working full-time at the Air Force Research Laboratory (AFRL) in Edwards, California where he met Daniel Pineda, Ph.D. who was set to teach at UTSA the following semester. 
Pineda encouraged Hernandez-McCloskey to apply for UTSA's Mechanical Engineering Ph.D. program in the Margie and Bill Klesse College of Engineering and Integrated Design. He followed Pineda's advice, and now the two are currently working on new research together in Pineda's Laser Spectroscopy and Chemical Propulsion Laboratory.
In the spring of 2022, Hernandez-McCloskey was awarded the NASA Space Technology Graduate Research Opportunity for his work in Pineda's lab. His research focuses on the design of additively manufactured, detonation-based rocket propulsion systems in conjunction with spectroscopy and optically-based sensor development, including laser absorption spectroscopy, which has experimental applications to advance chemical propulsion, hypersonic flight, and energy conversion systems. In short, Hernandez-McCloskey uses non-intrusive methods, such as lasers, to measure the properties of gases in harsh environments, like high-temperature, high-pressure rocket exhaust, to evaluate the performance of next-generation rocket technologies. 
When Hernandez-McCloskey is not in the lab, he works on design and manufacturing of agricultural drones for Hylio, a start-up company in Houston, TX, and participates in UTSA's Aeronautics and Rocket Club. With all of his time consumed by space travel research, his NASA fellowship is allowing him to focus on his work without having to seek additional outside employment to put food on the table. 
"This opportunity has allowed me to focus entirely on my school curriculum, research, and mentoring students, and so much less on finding out how to get money just to survive. It takes a massive burden off of my plate. I'm incredibly grateful to have this foundation to fall back on. It is incredibly stress-reducing," expressed Hernandez-McCloskey. 
Hernandez-McCloskey is expecting to graduate from UTSA in 2025. With multiple professional avenues to follow, from academia and research to starting his own company, he is keeping his options for post-graduation employment open. In the meantime, he will continue advancing NASA objectives and sharing his passion for rocket research with his hometown of San Antonio.
To learn more about creating or endowing a graduate fellowship at UTSA visit https://www.utsa.edu/giving/how-to-give/endowments.html.