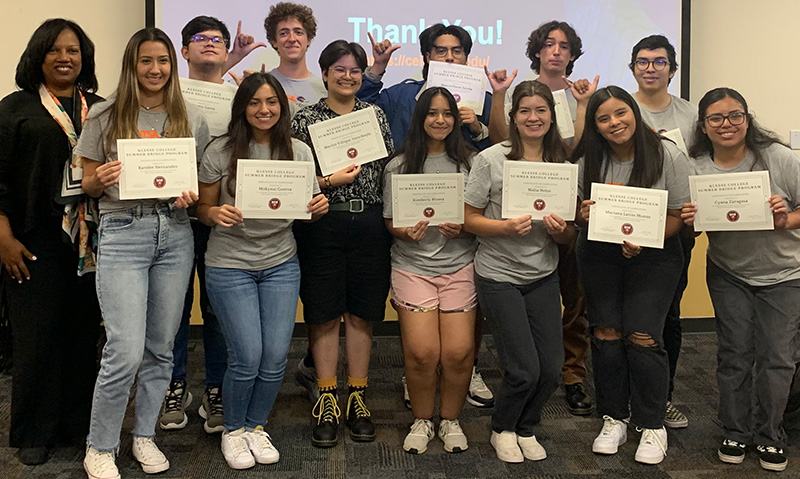 Based in San Antonio, Zachry Corporation has made a generous gift to the UTSA Klesse College of Engineering and Integrated Design, establishing the Klesse Summer Bridge Program. The program was created to empower students from backgrounds that are historically underrepresented in engineering and offers a supportive and engaging environment for students who are transitioning from high school to college. As a result of the generosity from Zachry Construction, 14 incoming freshman engineering majors were allowed to start their educational journeys one month prior to the start of the Fall 2022 semester, which prepared them for the rigorous curriculum of their first semester courses while simultaneously introducing them to living on a college campus and utilizing UTSA's resources.
Following the success of the first Summer Bridge class, UTSA has secured an additional three-year seed funding commitment from Zachry Corporation. Their contribution allows for the continuation of the Summer Bridge program through 2025, while also allowing UTSA to actively seek additional funding to sustain the program's future.
Notably, in the first year of the program, over half of the students were women, a statistic that holds significant importance for David Zachry, CEO of Zachry Corporation, who actively promotes equal opportunities for women in the field of engineering.
"The underlying premise of Zachry's Core Values is built on our long-held beliefs of valuing our people and respecting their differences. UTSA's Summer Bridge Program stands as a real-world example of an organization that also highly values uniqueness and differences among its student body," expressed David Zachry, President and CEO of Zachry Corporation. "We applaud programs such as this one for being intentional about closing diversity gaps, promoting a healthy culture of inclusion, and driving innovation.  Zachry is inspired by these young, bright students for taking bold steps in pursuing potentially life-changing careers in engineering.  We encourage others to join us in supporting this rewarding program."
Students in the Klesse College Summer Bridge Program benefit from intensive math and chemistry sessions, preparing them for Calculus I and General Chemistry I in their first semester. They are also paired with experienced engineering faculty mentors who offer guidance and help set personalized goals. By connecting with engineering student organizations, students gain exposure to projects, competitions, and local and national workshops, deepening their understanding of the field. 
"I learned so much during my time in the Summer Bridge Program. It gave me the opportunity to get ahead of the pack as a freshman by getting to know more about what the school can do for me. Being able to utilize all the programs offered by UTSA led to me finding an internship sooner than I could have imagined."


- 2022 program participant, Benicio Gonzales
The Summer Bridge Program also facilitates the formation of connections within a small group of fellow freshmen engineering students, fostering a supportive network before their academic journeys begin. 
Over the course of the summer, I formed a huge network of connections with my peers, which has only expanded since then. Thanks to my experience in the program, I feel comfortable working both as a volunteer in the Makerspace and as a researcher in the DART Lab


- 2022 program participant, Marlist Villegas Verschoyle
Recognizing the dedication and commitment of the students, the program awards a stipend of $1,500 upon successful completion of all program requirements. This financial assistance not only acknowledges their efforts but also alleviates potential financial burdens, enabling students to fully engage in the program's activities and seize the opportunities presented.
Thanks to the renewed funding from Zachry Corporation, UTSA eagerly awaits the arrival of 24 promising incoming freshmen for the Summer 2023 program. For information on supporting the future of UTSA's Summer Bridge Program, please contact Taylor Phelps, KCEID Chief Development Officer at Taylor.Phelps@utsa.edu.
-Jordan Allen, Development Writer