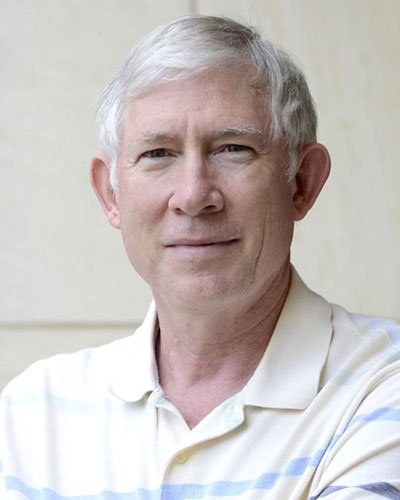 The University of Texas at San Antonio electrical engineering professor, Dr. Paul Morton, M.D., Ph.D. has been teaching at UTSA for over two decades. During this time, his hardworking first-generation students inspired him to create the Morton Electrical and Computer Engineering Endowed Scholarship for undergraduate students in the Margie and Bill Klesse College of Engineering and Integrated Design. Dr. Morton has been contributing to his scholarship through payroll deductions and proceeds from his published textbook, Logic Design since 2020 with plans to fully fund the endowment by the end of the spring 2023.
"I always have such inspirational students in my classes. There are incredible young people every semester and so many of them are first-generation. It motivates me to support the university," said Dr. Morton. "I love to see kids who come in minimally prepared succeed in their education and go on to receive multiple degrees."
Dr. Morton, himself, received several degrees and had an incredibly versatile career before joining the faculty at UTSA. He received his undergraduate degree in electrical engineering as an ROTC student from Purdue University and upon graduating, was commissioned as a 2nd Lieutenant in the U.S. Army. After three years of flying helicopters for the Army in Vietnam, he decided he was not yet done with learning. He attended the University of Missouri to receive his M.S., M.D. in Obstetrician Gynecology, and Ph.D. in electrical engineering. During his Obstetrician Gynecologist residency at Washington University in St. Louis, he joined the Air Force which ultimately led him to his permanent home in San Antonio, Texas. He began teaching part-time at UTSA in 2001 while he was the Chair of the OBGYN Department at Brooke Army Medical Center. He then opened his own private practice and became a full-time professor after his retirement in 2013.
"Sometimes students and their families don't necessarily have a vision for education. Maybe there is a vision for going into the military which I am definitely in favor of. But I would rather see them receive a degree and go in as officers. Unfortunately some families don't see this as a viable option because of financial circumstances," Dr. Morton expressed.
After learning about the simple giving process for faculty and staff at UTSA, Dr. Morton decided to join the university's generous donor base and support his students financially. His hope for the university is that it will become sufficiently endowed to the point where most students are able to receive scholarships and graduate without debt. 
"I want to encourage other staff and faculty to give. Not only does it leave a legacy, but it's an important investment in the future. For many students scholarship funding is what makes school possible," said Dr. Morton. 
To learn more about faculty and staff giving at UTSA, visit https://giving.utsa.edu/facultystaff