People Excellence is comprised of dedicated team members who are committed to partnering with our campus stakeholders to deliver quality customer service that supports and optimizes the goals of the university.
Our teams are focused on providing employees with an engaging work environment with equal opportunities for development and personal growth. Explore each of our teams below and learn more about how we support UTSA.
Meet our Team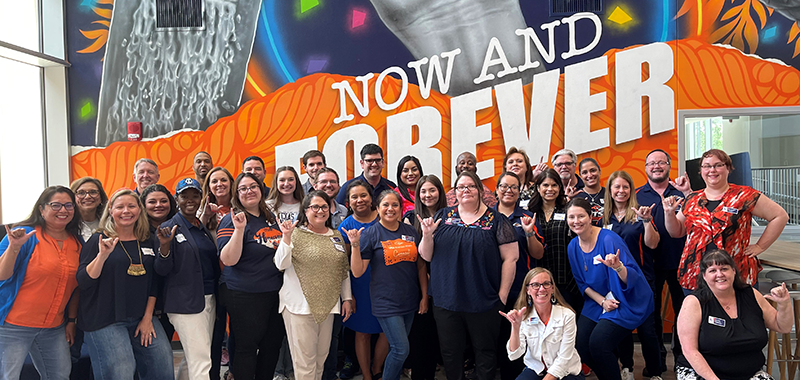 AVP Office for People Excellence
Human Resources Business Partners
The Human Resources Business Partner (HRBP) team provides support and resources to employees and leaders across the university, serving as consultants and advisors on human resource-related matters. HRBPs work to ensure fair, ethical and equitable people practices and processes, and they collaborate with stakeholders to proactively identify human resources needs and strategies that align to and support the overall strategic objectives of the department or division. HRBPs are strategic partners and resources for change management, leadership development, workforce strategy, strategic staffing, organizational design, employee engagement and employee relations.
Talent Acquisition provides recruitment services, assisting hiring managers with filling full-time, part-time, temporary and permanent positions for faculty, staff and executive levels. Services include developing a recruiting strategy to ensure the successful selection and placement of diverse, qualified candidates. The team assists with posting positions, candidate selection, managing offers and pre-employment activities.
Through cross-campus partnerships, Talent Management is dedicated to the growth and development of individuals, teams and the university by providing strategic learning opportunities, leadership development and customized training. The team strives to be the go to resource for professional growth for the Roadrunner community.
Total Rewards provides assistance with and education about the total rewards packages offered to our new, current and retired employees. The team oversees compensation, benefits and much more. Our goal is to attract and retain a highly qualified and diverse workforce by providing a total rewards package that offers confidence and stability to every employee as they reach each milestone throughout and after their career.
Benefits
The Benefits team works closely with the UT System Office of Employee Benefits to offer an excellent benefits package to eligible employees, retirees and dependents. 
Compensation
The Compensation team is committed to attracting and retaining a qualified, motivated, diverse workforce that meets the standards of service and excellence required by the university. 
Employee Services
Employee Services assists with the employee self-service portal and updating, verifying and reviewing employment records, including employment verification, employee file review, records retention and more.