UTSA is committed to ensuring that equal opportunity is afforded to all candidates to further the university's goal of identifying and recruiting qualified talent.
There are five phases to consider when adding talent, modifying an existing position or filling a vacant position on your team.
Phase 1: Talent Need Identification
Review the Job Description
The first step of the Talent Need Identification phase is to review the job description and confirm that it accurately reflects the roles and responsibilities for your staffing need.
If you need to create a new position or modify an existing one, arrange a time to meet with your Human Resources Business Partner (HRBP) for assistance. Once the job description has been drafted, your HRBP will coordinate with Compensation for review and approval. Compensation maintains all official job descriptions, and as part of the review process they will review the job's qualifications, roles, responsibilities, pay grade, salary range and job code.
VP Approval
You will need to secure VP approval in order to fill a vacant position, create a new position or reclassify an existing vacant position. Please complete one of the forms below and route for approval.
All other departments: Provide an email or memo from the vice president approving the request.
The VP approval form will not make any changes in PeopleSoft; an eForm will be required to implement the changes. 
Submit Appropriate eForms
If you are adding a new position, you will need to submit the New Position Request eForm for approval. This step is important because it will generate a position number and add the position to your organizational chart.
If you are making changes to an existing position (reclassifying a position), you will need to submit the Position Attribute Change eForm for approval. The Position Attribute Change eForm may be used to request changes to the details of a position, including vacant and filled positions. This may include updating the title, full-time/part-time status, "reports to" information, department, etc.
If you are not making any changes to an existing, vacant position, you will not need to submit an eForm.
For additional assistance, view the eForms Quick Guides.
Notify Talent Acquisition to Post the Position
After the position has been fully approved, email Talent Acquisition with the following information to post the position.
Position number
Job description
Hiring manager name
Signed VP Approval
Phase 2: Attracting Talent for the Job Posting
After Talent Acquisition has received your approved staffing need, they will schedule a recruitment strategy meeting to review:
Position requirements
Salary expectations
Posting job on websites
Interview timeline
Onboarding a new employee
Phase 3: Sourcing and Interviewing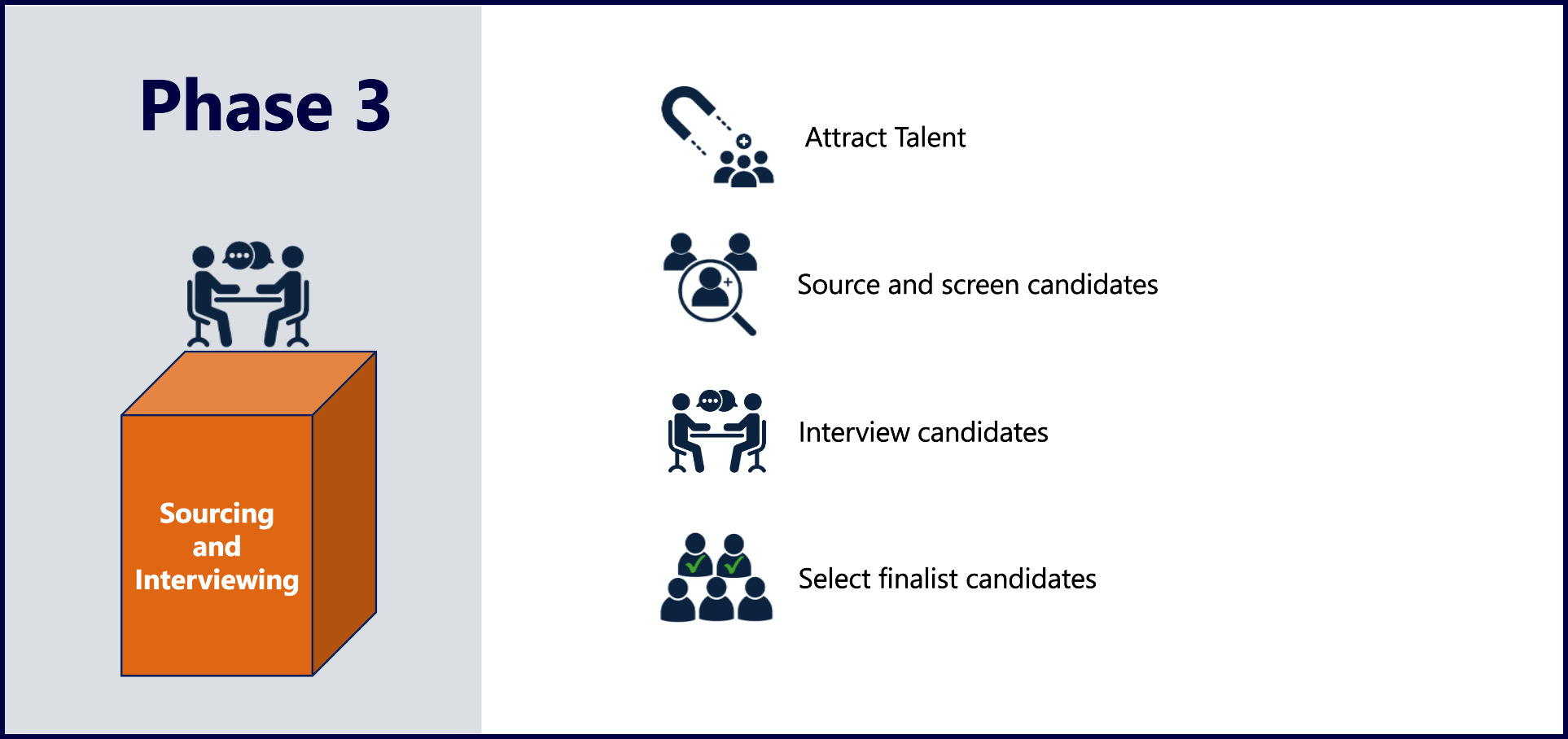 Interviewers are responsible for ensuring that equal opportunity is afforded to all candidates. After the applicant pool is established, the hiring manager can begin reviewing applications/resumes to determine the most qualified candidates and begin the interview process.
Because UTSA is a state-run institution, there are interviewing requirements for veteran applicants, as referenced in Senate Bill (SB) 805. These requirements pertain specifically to qualified applicants. For more information, please see Veteran Interview Requirements for State Agencies.
After the interviews are completed and the hiring manager has selected the finalist(s) for the open position, they will partner with Talent Acquisition to confirm qualifications/eligibility and discuss salary recommendations. Talent Acquisition may work with Compensation to ensure a fair and competitive salary based on internal equity.
Phase 4: Selection and Offer Process
Verbal Offer and Start Date
After the salary is approved, a contingent verbal offer is extended to the candidate. Once accepted, a start date is determined based on the Bold New Journey Orientation calendar.   
All new hires attend this orientation to complete their new hire paperwork and learn more about the university's mission, vision, core values and strategic destinations. Orientation is typically held on the first three Mondays of the month.
Criminal Background Check & Offer Letter
Talent Acquisition will initiate the Criminal Background Check (CBC) (and any other prerequisites to employment) and route the offer letter for signatures through DocuSign. For more information, view  HOP 4.30 | Criminal Background Check.
All CBCs MUST clear before a candidate can begin employment. Talent Acquisition will work with you if there are any delays that will impact the start date.
eForms


After the candidate has accepted the offer, a New Hire/Rehire Appointment eForm will need to be routed for approval so credentials can be established. The Criminal Background Check must clear before the eForm is fully approved. Refer to the
Bold New Journey Orientation calendar
for eForm deadlines.
Bold New Journey Orientation and Onboarding Instructions
After the eForm has been approved, Talent Acquisition will email the following information to your new hire prior to their start date.
Date, time and location of Bold New Journey Orientation
Parking instructions
New hire checklist
I-9 instructions
Steps to obtain employee credentials
Manager contact information
Phase 5: Employee Onboarding
Before the First Day
Before your new employee's first day, you should complete the following tasks to provide a successful onboarding experience.  
Contact your new employee to review what to expect on their first day.
Make arrangements to meet your new employee at North Paseo Building 1.408 after Bold New Journey Orientation.
Arrange to issue your new employee a PC or laptop and any additional technology.
Create a Two-Week Onboarding Plan that will list daily activities to help acclimate your new hire to their role.
On The First Day
Meet your new employee at 11:45 am at North Paseo Building 1.418.
Introduce the new employee to the team.
Request necessary systems access for your new hire by contacting Tech Cafe.
Arrange for card access and keys to the building and office, if applicable.
Within the First 30 Days
Ensure your new employee knows how to enter their time in PeopleSoft.
Review the job performance expectations and training requirements.
Arrange 1:1 meetings (biweekly/weekly). 
Determine and submit SMART goals in the Annual Performance Evaluation in PeopleSoft.
Confirm the new employee's compliance training is complete.