Roadrunners, did you know you have a variety of transportation choices at your fingertips? Discover easy-to-use options and uncover your ticket to experiences and opportunities on campus, in San Antonio and beyond. Explore the information below for guidance on different modes of transportation!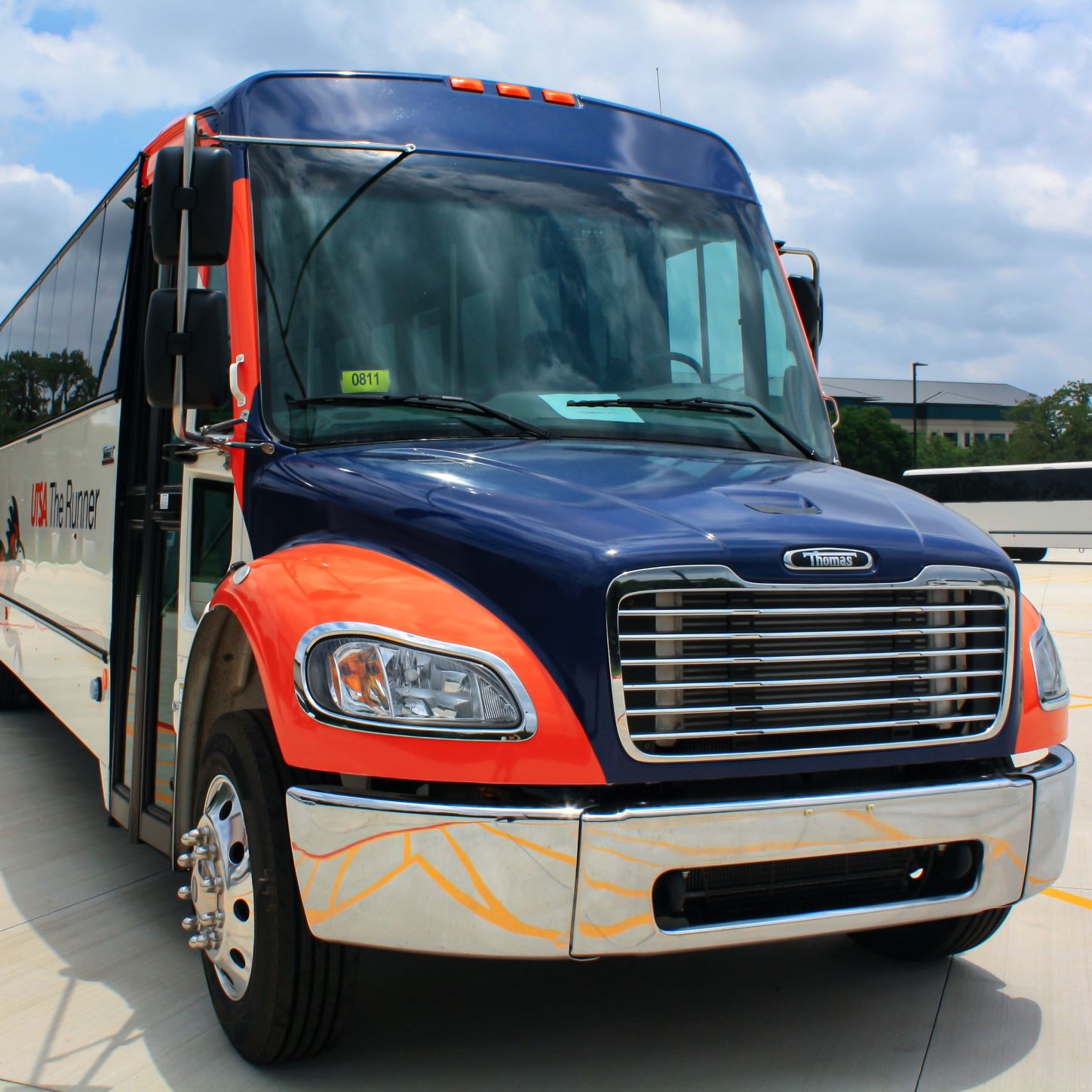 The Runner, UTSA's campus bus system, provides service to and from on-campus parking lots and select nearby apartment complexes.
The Runner GPS App
View shuttle locations in real-time, check schedules, receive important alerts, and more with The Runner GPS. Personalized options include the ability to save favorite routes and set reminders for frequently-used stops. Download it for free from the App Store and Google Play.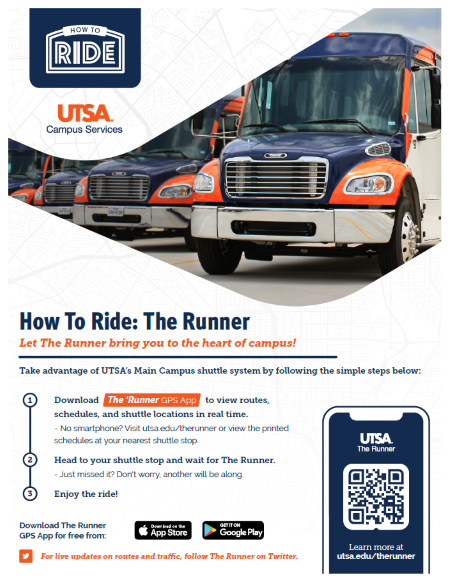 View Flyer: How to Ride The Runner
UTSA and VIA Metropolitan Transit partner to provide free, unlimited bus service as well as on-demand rides through VIA Link to current UTSA students and paid employees. The VIA U-Pass program offers cost savings and makes it easier for the campus community to leave vehicles at home, reducing traffic on campus roads and parking lots.
Access Your VIA U-Pass
To access your VIA U-Pass, download the VIA goMobile+ ticketing app and sign up with your UTSA email address. To ride, simply open your U-Pass and show it to the operator when boarding the bus. No smartphone? Contact Campus Services for instruction.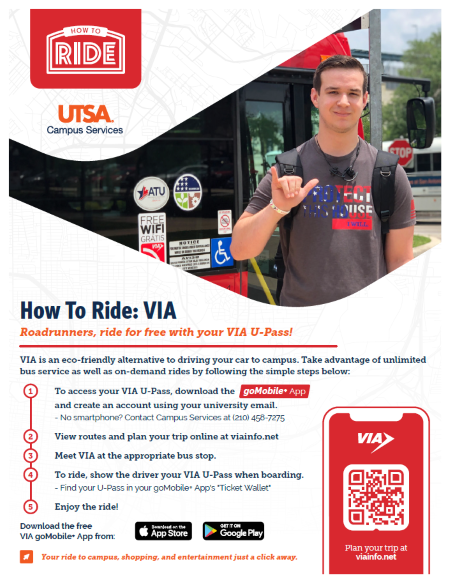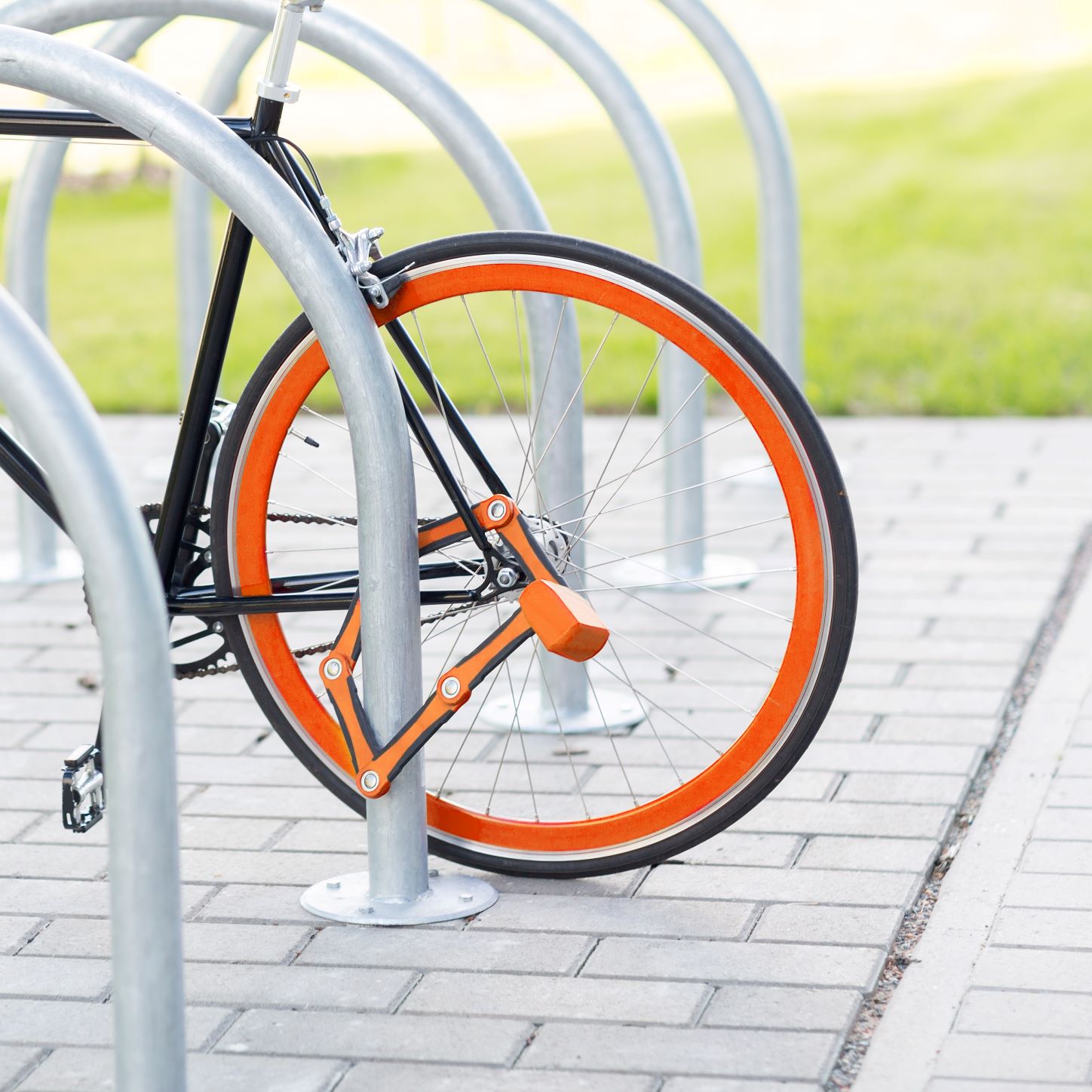 Alternative Transportation
Bicycling
Bike to reduce air pollution. UTSA provides bike racks throughout the Main and Downtown Campus. Register your bicycle for free, and remember to practice bicycle safety. Bicycle responsibly by using signals at intersections and being aware of roadway hazards.
Check out B-Cycle San Antonio, a bicycle sharing program in downtown San Antonio.
Carpool
Looking for a way to make your commute to campus more eco-friendly? Find a rideshare and register your carpool with Campus Services.
Taxi Service
In a hurry? Call a cab. Options in San Antonio include zTrip San Antonio and Alamo City Taxi.
---
Featured Video
VIA Link Northwest Kickoff Event at UTSA
In fall 2021, UTSA hosted VIA Metropolitan Transit's kickoff event for VIA Link Northwest. With VIA Link, Roadrunners can enjoy on-demand rides for free with their VIA U-Pass.
Check back soon for more featured video content, including How to Ride video tutorials!